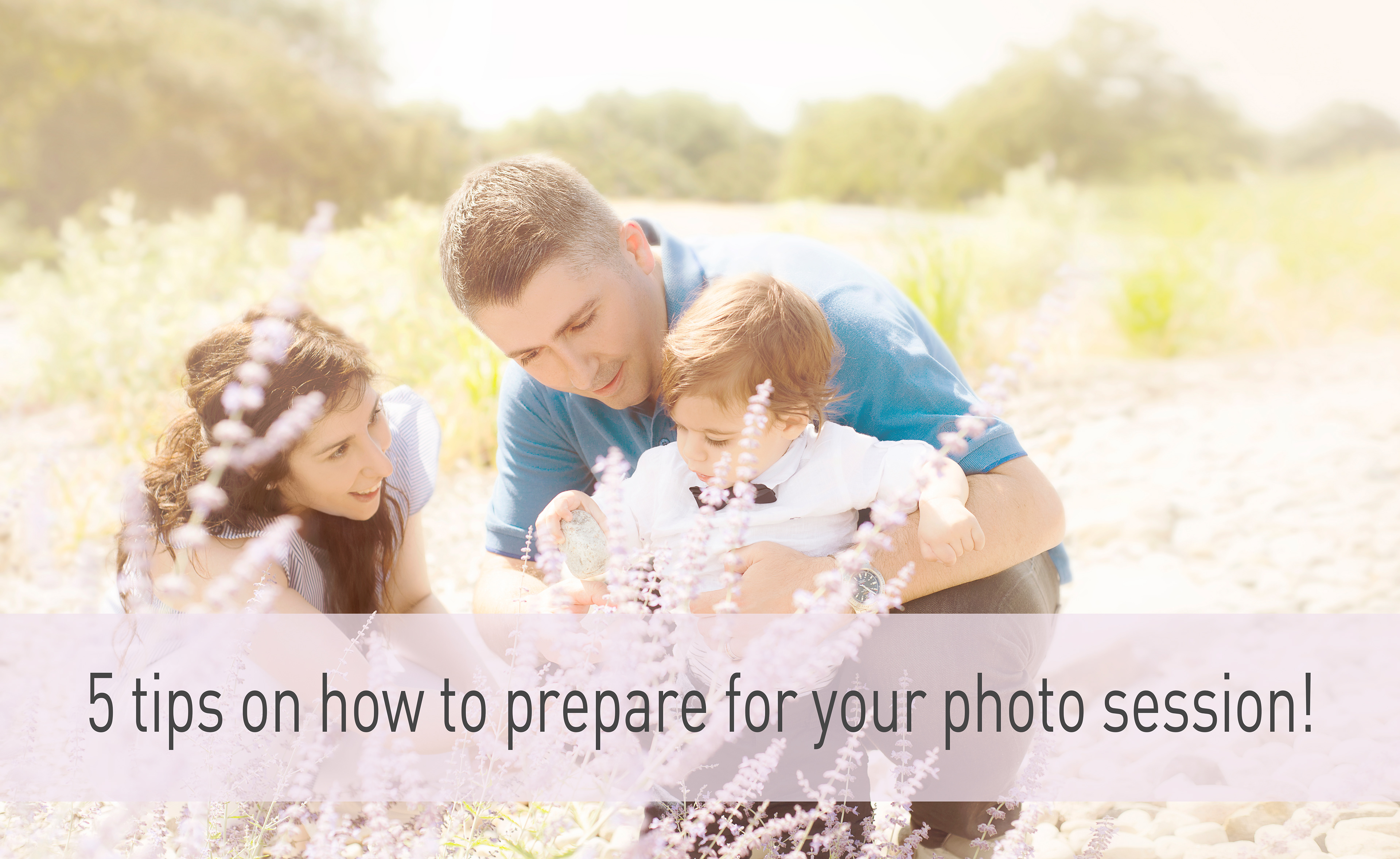 FIVE TIPS ON HOW TO GET READY FOR YOUR SESSION!
Alright, so we all know going in to get our photo taken can be nerve racking.  Let alone, doing with with someone we are meeting for the first time.  Am I right?  Here are a few steps to help you prepare for your portrait session and help create beautiful and timeless images. 
1. Clothing:
 Prepare your outfits in advance.  Coordinate everyone's outfit to GO together rather than match.  When everyone is wearing the same top, it looks a bit too perfect.  So we recommend going with a colour pallet that compliment each other.  For example, if doing an outdoor shoot, light blues, light yellows, creams, denim, greys all go well together.  So don't be afraid to mix some colours.  As long as they go, you're fine. 
2. Hair and makeup:
 Unless you are going for the ultra formal look, don't over do it.  Natural hairstyles (either up or down) look more like your everyday look and therefor you will relate more to the authenticity of the photos.  Men: If the scruffy look is your thing, go for it but otherwise, a clean shave if perfect also.  
3. Glasses:
 If you wear them most of the time if not all the time, keep them for the photos.  Not only will you see where you need to focus but also will enhance the authenticity of the photos.  We want you to look back at those images and recognize yourself.  If you have transition lenses, don't worry!  We'll simply put your glasses in a dark spot until they clear up so we can see your eyes!
4. Timing:
 The timing of a session is crucial!  If you have little ones, it's important to plan the session around the nap schedule.  A tired baby is not a happy baby!  It's important to discuss with your photographer to make the necessary arrangements.  Also, if the session will end up being close to snack time or lunch time, make sure to bring snacks and a drink! As simple as is sounds, giving a child a little break to eat can turn a fussy baby into a happy baby! 
5. Have fun!
 As easy as it is to say, having fun is the most important thing!  No need to tell your child to "Cheese!" or any other variation.  Forcing a child to smile will always result in fake smiles.  Instead, let's play a game or let's make funny sounds!  This will get them to giggle and make for such beautiful candid photos!  So don't be afraid to let loose and get into it!  
I hope you will find these tips helpful to prepare for your next photo session!  For more great tips, follow us on our social media pages! 
July 9, 2019
Summer promo alert!!!
So, I'm freshly back from vacation (my first week of summer vacation in over 11 years!!!) and so I think it's time to treat you guys a little.
With the warmer weather finally here (it was about time!!!) and the kids out of school, and vacation season here you can finally get that family photo you've been dreaming of getting for ever!
Outdoor sessions are such a great way to capture beautiful and natural images of your family!  None of those stuffy, static photos...  No.  Summer is made to have fun!  Let's have fun!!!

And...  the prints make fore great Christmas gifts too! (I know, I know...).
Send us a line, give us a call or dm us on social media to get more info and availabilities!
Let's create something beautiful together.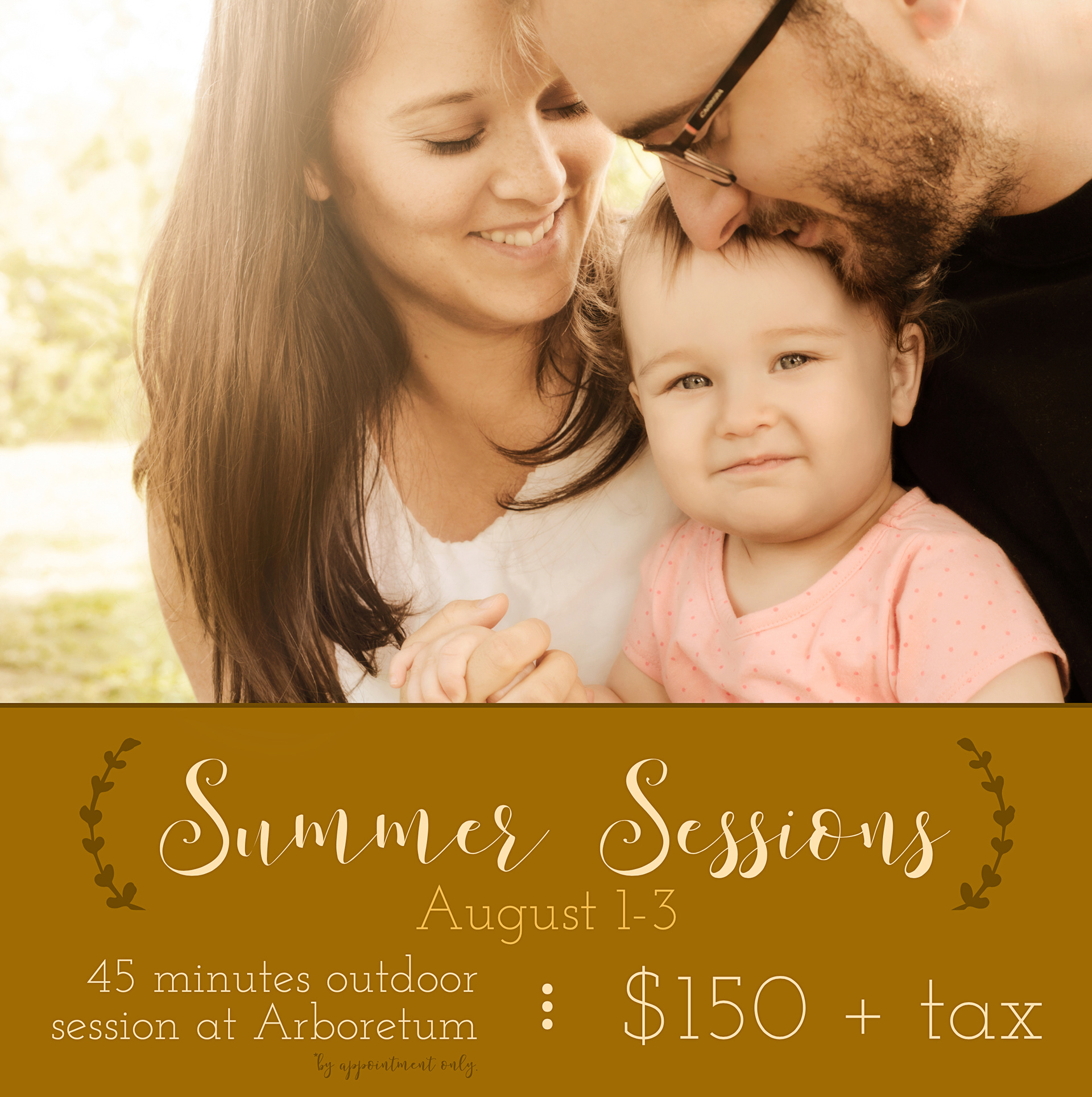 June 7, 2019
Ahhhhh newborn sessions.  They are some of my favourite sessions to do!  Many times, clients tell me "Wow, you are so patient to be able to do this".  And my reply is: I love what I do...  I don't see the time go by, I enjoy myself genuinely during each newborn session! 
The reality of newborn sessions is they are unpredictable.  Some go faster than others, and that's ok!  I remind the parents that, even though it doesn't seem like they have much of a schedule, they have some consistency when they are at home.  So when we take a newborn baby out of that consistency environment, yes the sleep schedule/patter or the feeding schedule might be a little bit out of whack!  
One of the first things I tell my clients is: So today, the baby is the boss!  If baby wants to feed, be burped, be soothed, etc...  We will take the time it needs to make it feel as comfortable as we possibly can!
Sometimes, parents get nervous when their baby won't fall asleep because they think it will ruin the session if baby does not sleep.  Let me tell you, I adapt my posing and photos according to baby.  Whether baby is awake or sleepy, comfortable on it's back, side or tummy... I position baby in a way that will produce beautiful photos regardless!
Here a few photos from a session I did recently.  This little girl was such a champ!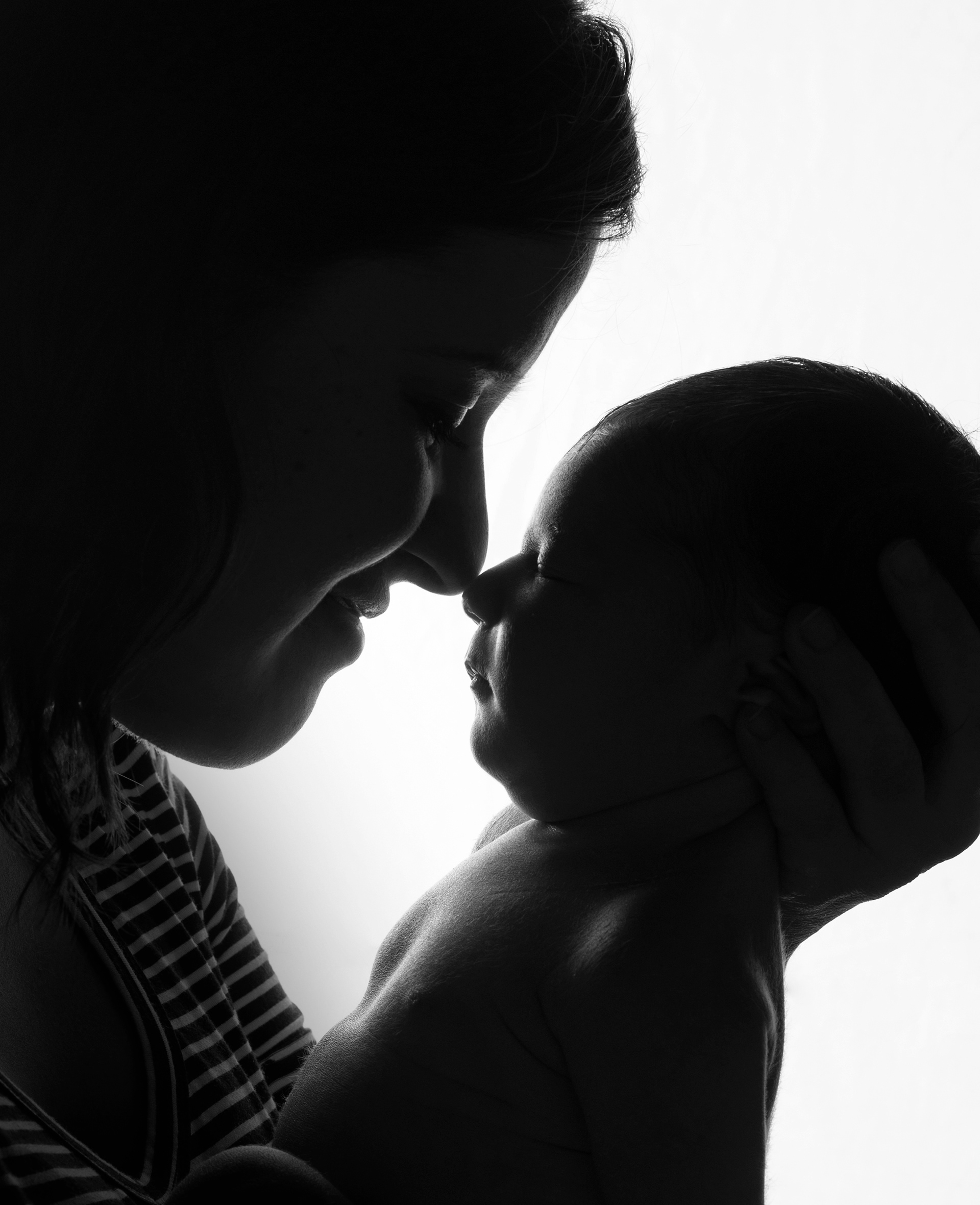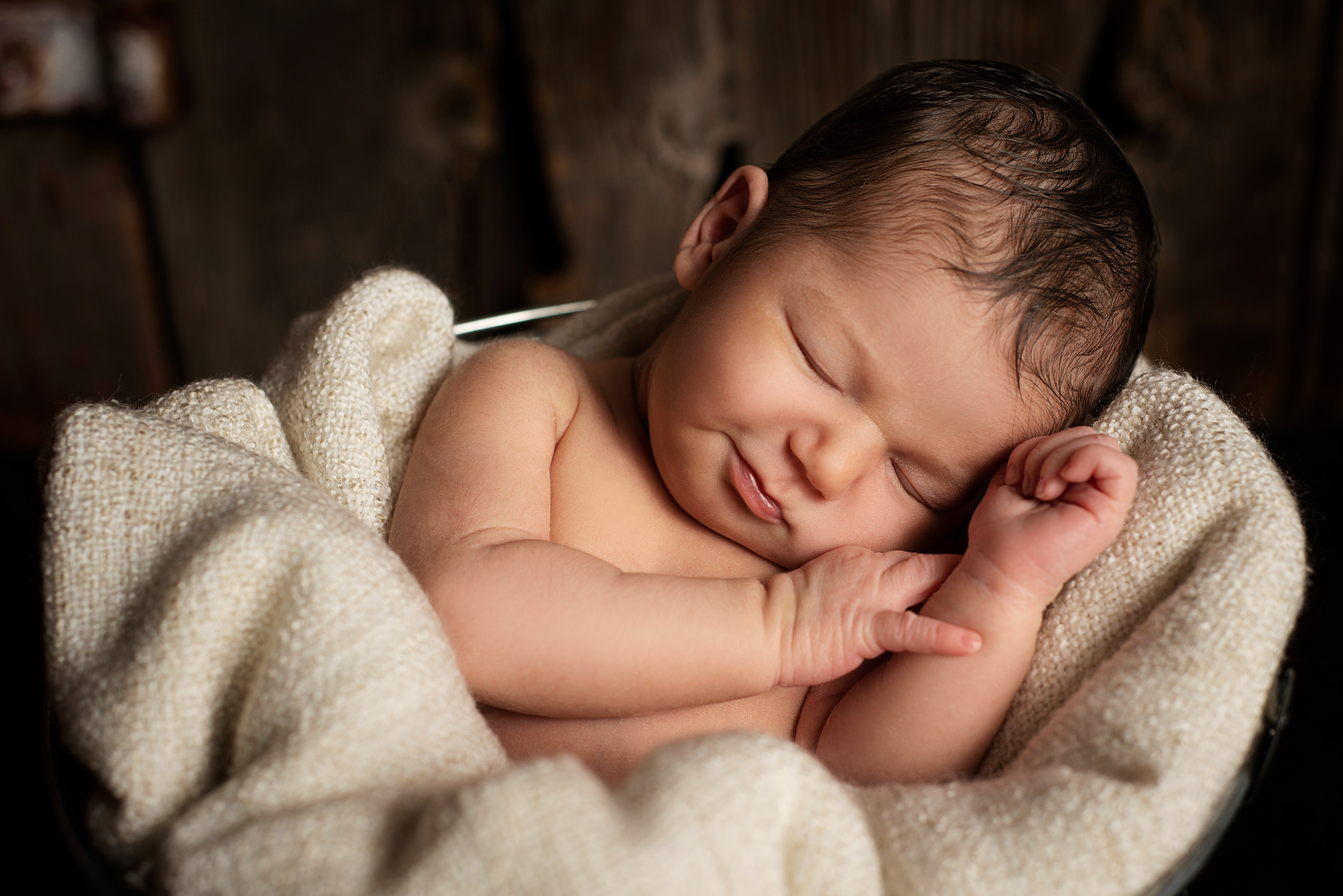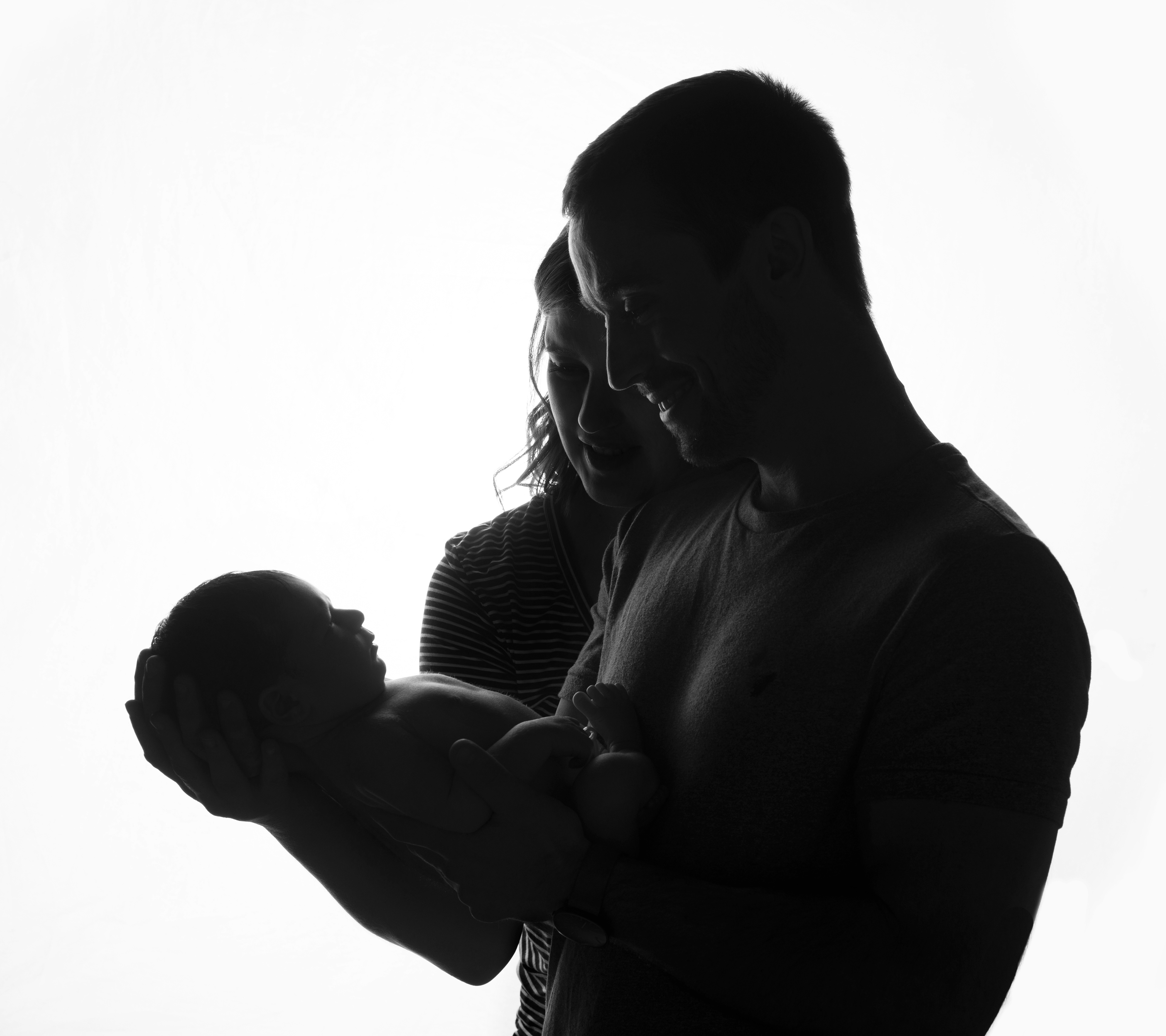 May 21, 2019
A little over a month ago, I had an experience I never thought I would have the chance to live!
On a beautiful Sunday morning, my friend gave birth to a beautiful and healthy baby boy.  They had originally asked me to photograph the labor and birth to capture the raw emotions and document this important milestone in their life but things didn't quite go as planned...  
At 4:36am, I received a call form the dad telling me that they were getting ready to push.  So I went on and packed my car (I was working at a trade show later that morning) and went on my way to the birth center.  I arrived at the birth center at 5:00am.  To my surprise (and everyone else's too!) in the 25 minutes between when the dad called me and me arriving at the birth center, the baby was born!  The dad greeted me at the door almost in shock, telling me he had a son!  Right there, the emotions started to rush through me.  I knew this day would be a special one.  
I went on into the dim room as they were checking mom over and letting this amazing feeling sink in while baby was on mommy's chest.  You know that saying that goes like this: "I wish I could be a fly on the wall to see what happens when..."...  Well, I was that fly on the wall.  I captured beautiful images of the growing bond between both parents and their newborn son.  Nothing directed, nothing scripted...  Only true and real moments.  
I was in tears the whole time.  Thank goodness for my camera...  I may or may not have hidden behind not to let my tears show too much! ;)  But man, it was so beautiful!  
And it didn't stop there.  Nope!  A few hours after the baby was born, they had their not yet two years old daughter (she was turning two the following day!) come and meet her brother for the first time at the birth center so I also got to capture this incredible moment filled with tears of happiness and absolute amazement!  Then, it was the grandparent's turn to come and meet the new addition to the family.  

What a whirlwind of emotions that morning was!  It felt like we were in a bubble where time stood still for a while and I felt this overwhelming feeling of peace and serenity.  
I left the birth center on a little high (emotional high that is) and a huge smile on my face.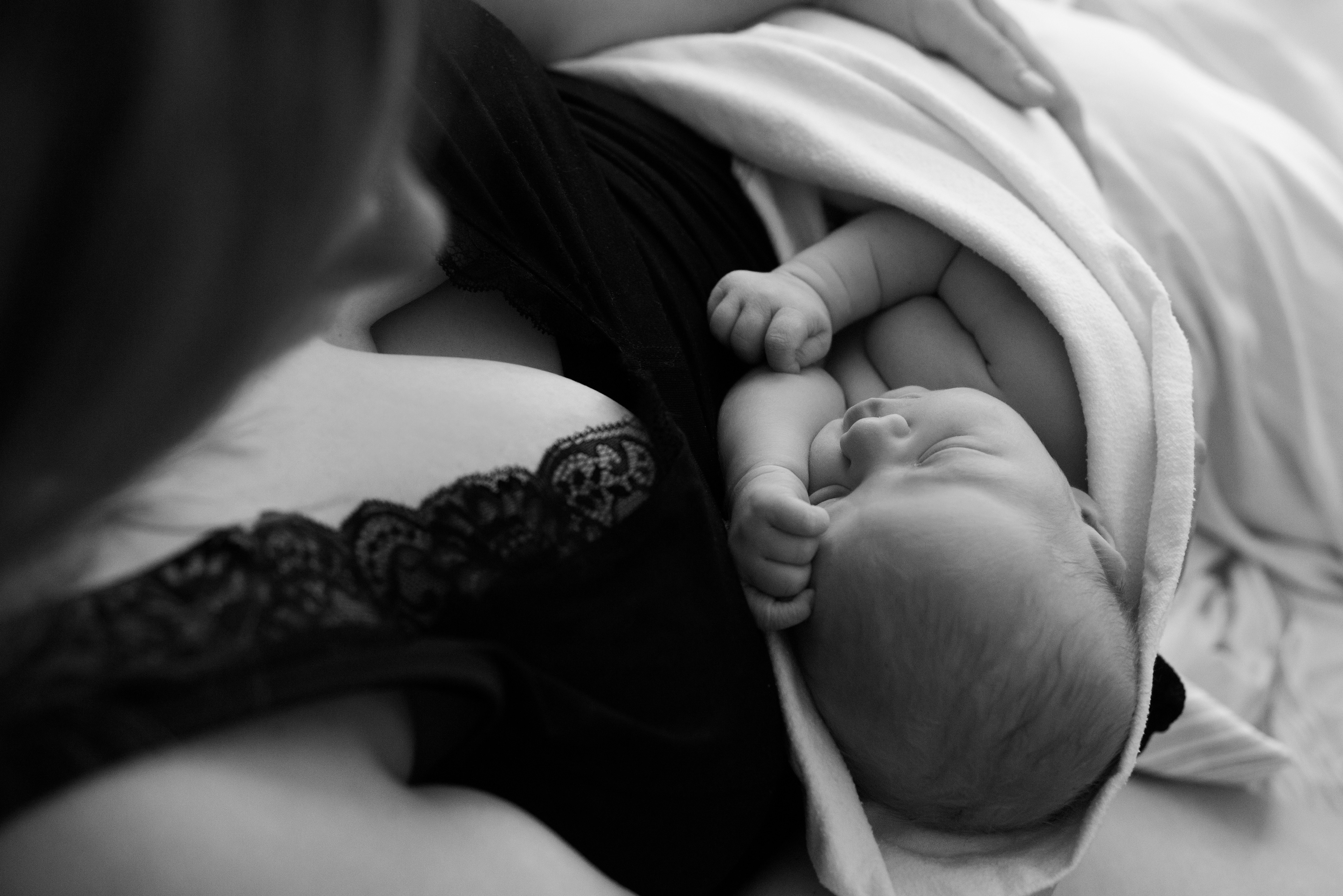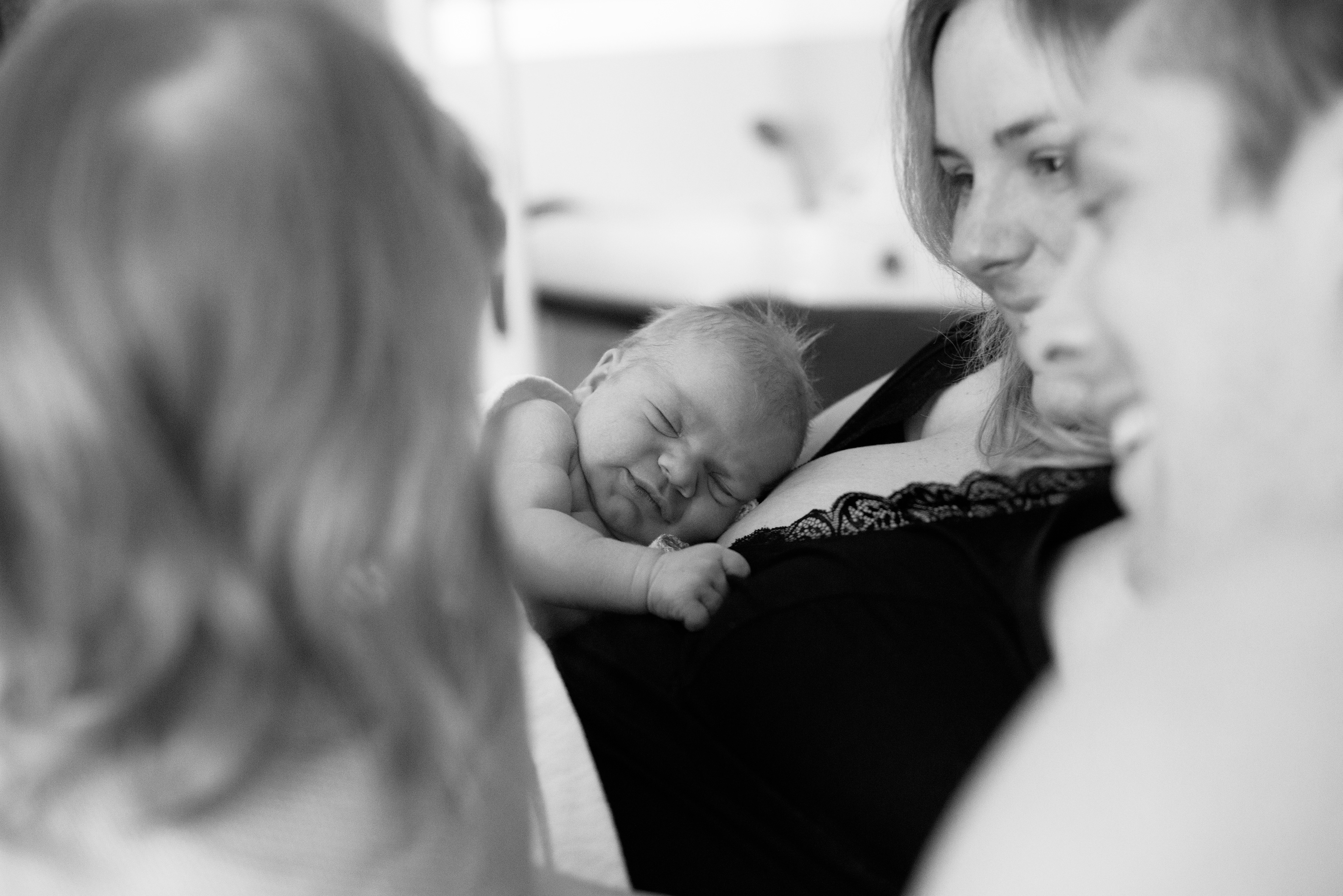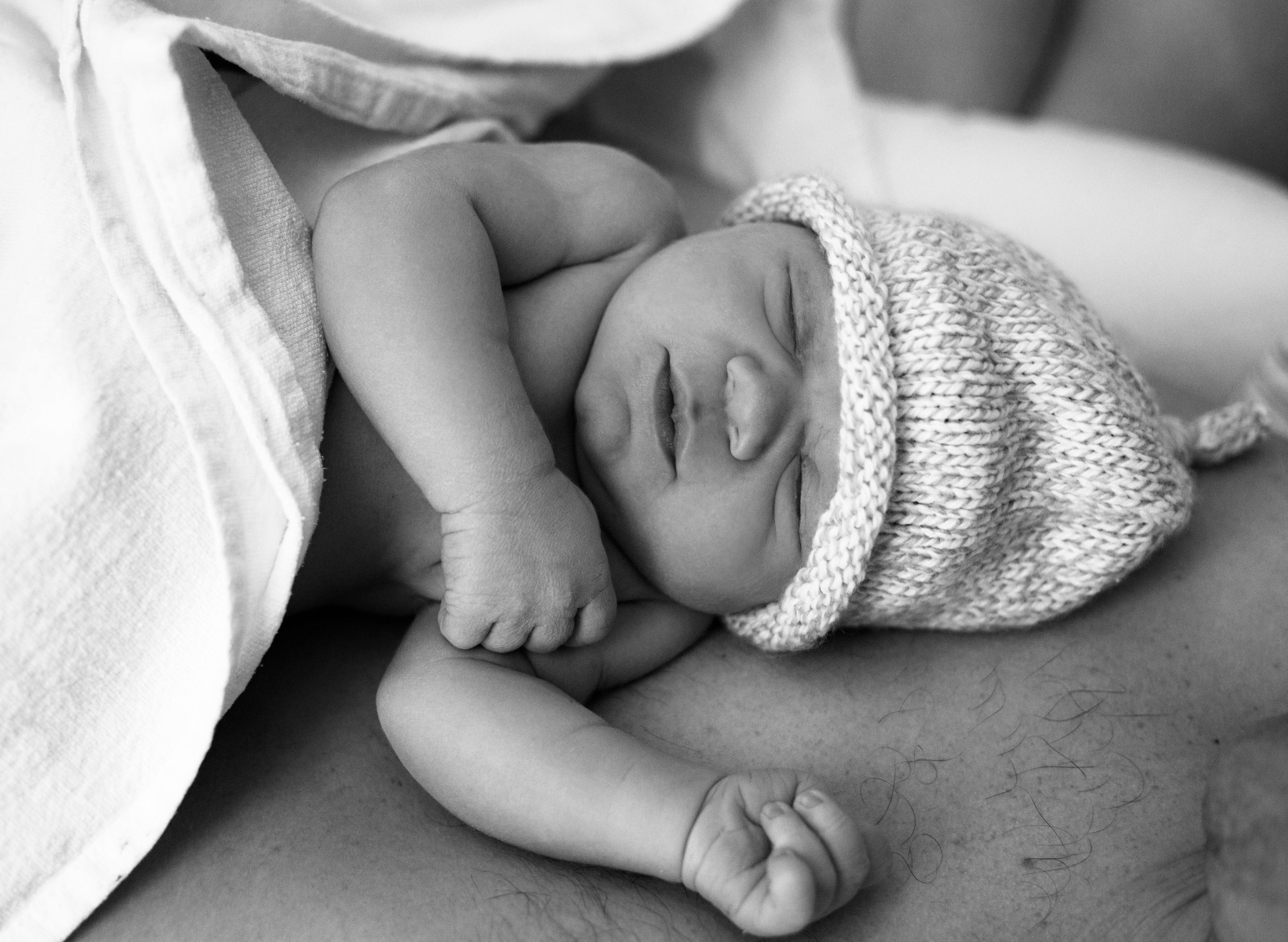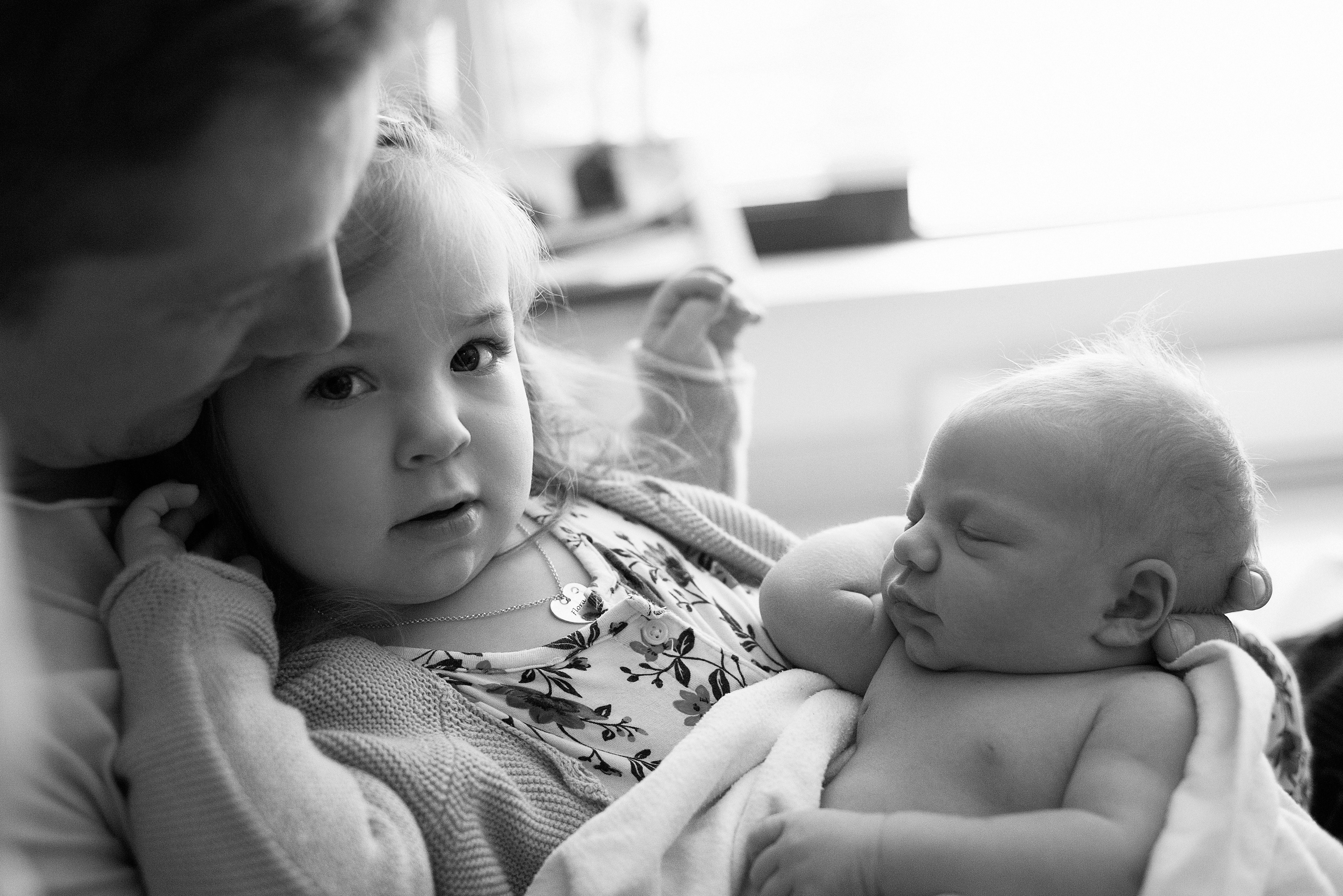 April 30, 2019
Today I thought I would write about the importance of printing your photos and memories rather than just keeping everything digital.
Honestly, how often do you look through all your photographs saved on your computer, phone, tablet, USB or other devices?  My guess is probably only a few times a year, right?  
With the evolution of digital cameras, storage devices, cellphone cameras, etc...  More and more people rely on technology to preserve their most precious memories.  But what would happen if your cloud based storage solution or hard drive crashed?  Or you break your phone?  Or your digital files get corrupted?  They are lost most likely permanently.  
There is such value in printing photos whether it be 4x6s for the old school photo album, a baby book, some framed prints for the wall, canvases, or any other media, it's tangible.  You see if every single day.  Not only will it serve to personalize your home decor, you will have the opportunity to relive those precious moments every time you look at the photos.
And what a gift it is to have the ability to pass on those images to the next generation in your family to look back on?
Now, I'm not saying there is something wrong in keeping a digital copy of your photos but I think it's shouldn't be the only way we save those keepsakes that are so dear to us.  So next time you look at your photos, I challenge you to think about what it would mean to you to have some of your favourite photos printed rather than just sitting on your computer waiting for someone to look at them.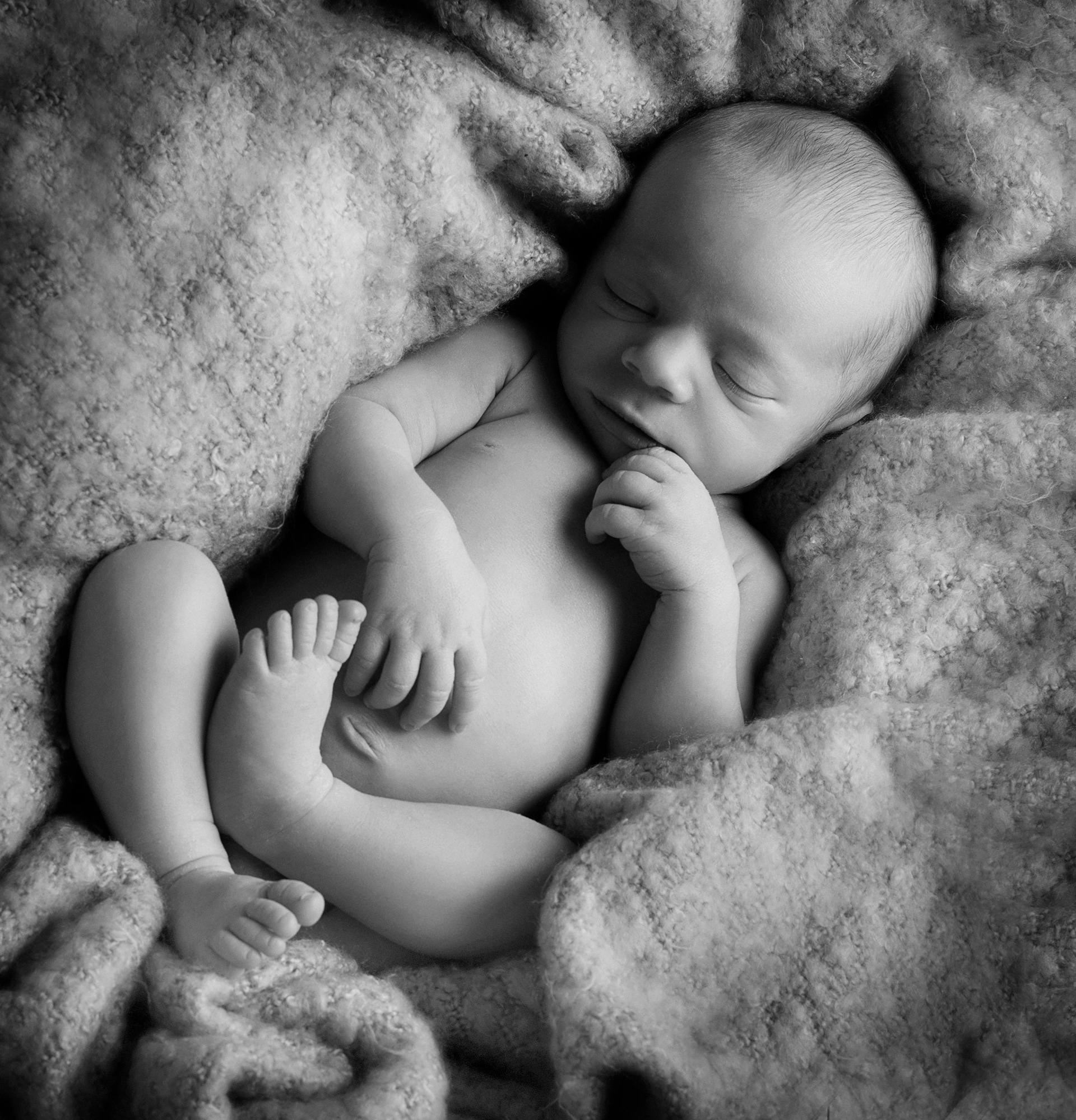 April 25, 2019
I recently got to work with a few local social media influencers and personalities on creating a series of photos that either represents their day to day or to create laid back portraits of them with a lifestyle twist.  You know what?  This was so refreshing!  This type of session is not my typical newborn or family session so I went out of my confort zone with these sessions.  But you know what?  I got my creative juices going and I go to try different angles, lightings, scenarios, etc... 
In the artistic industry, I think it's important to get out of your confort zone and try new things once in a while to prevent getting stuck in a rut.  It allows you to keep evolving and stay with the trends.  
I had decided that I would go into this project with no expectations and to see what the turnout would be since I had never met these ladies and I was trying something new.  But turns out, I really really like what came out of this (photo wise and connection wise).
These women are absolutely unbelievable!  Throughout the session, they've opened up to me shared part of their life story.  I was amazed at the challenges some of them faced in the past and to see how resilient they are and how far they have come in such a short time!  It was truly inspiring. 
One of them even told me that once she saw the first few images, she got teary eyes because she had never seen herself look so beautiful!  She arrived at the studio with some insecurities and left feeling empowered, strong and motivated!  THAT is the best gift I could ever get...  We all deserve to feel beautiful, amazing, strong and confident!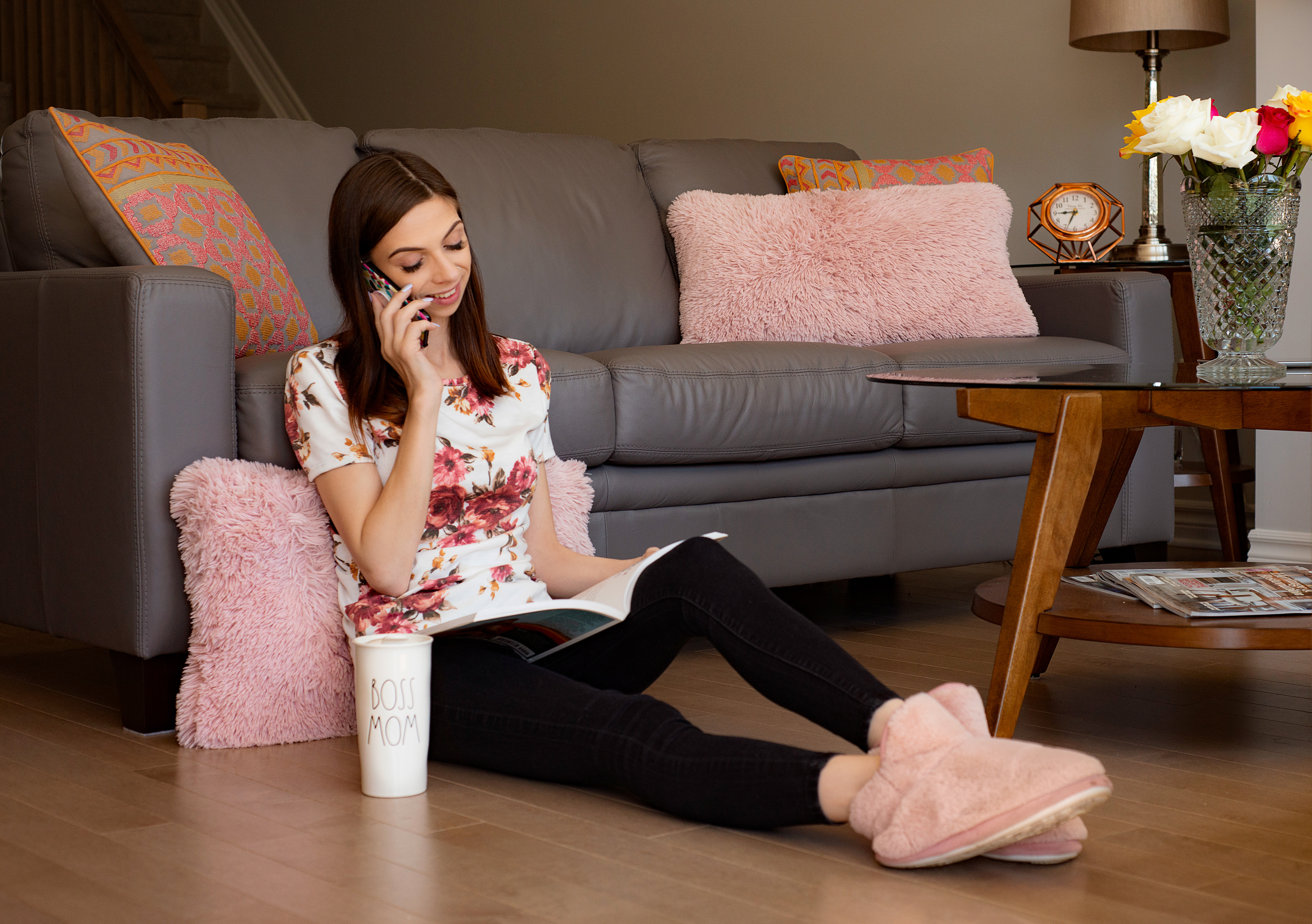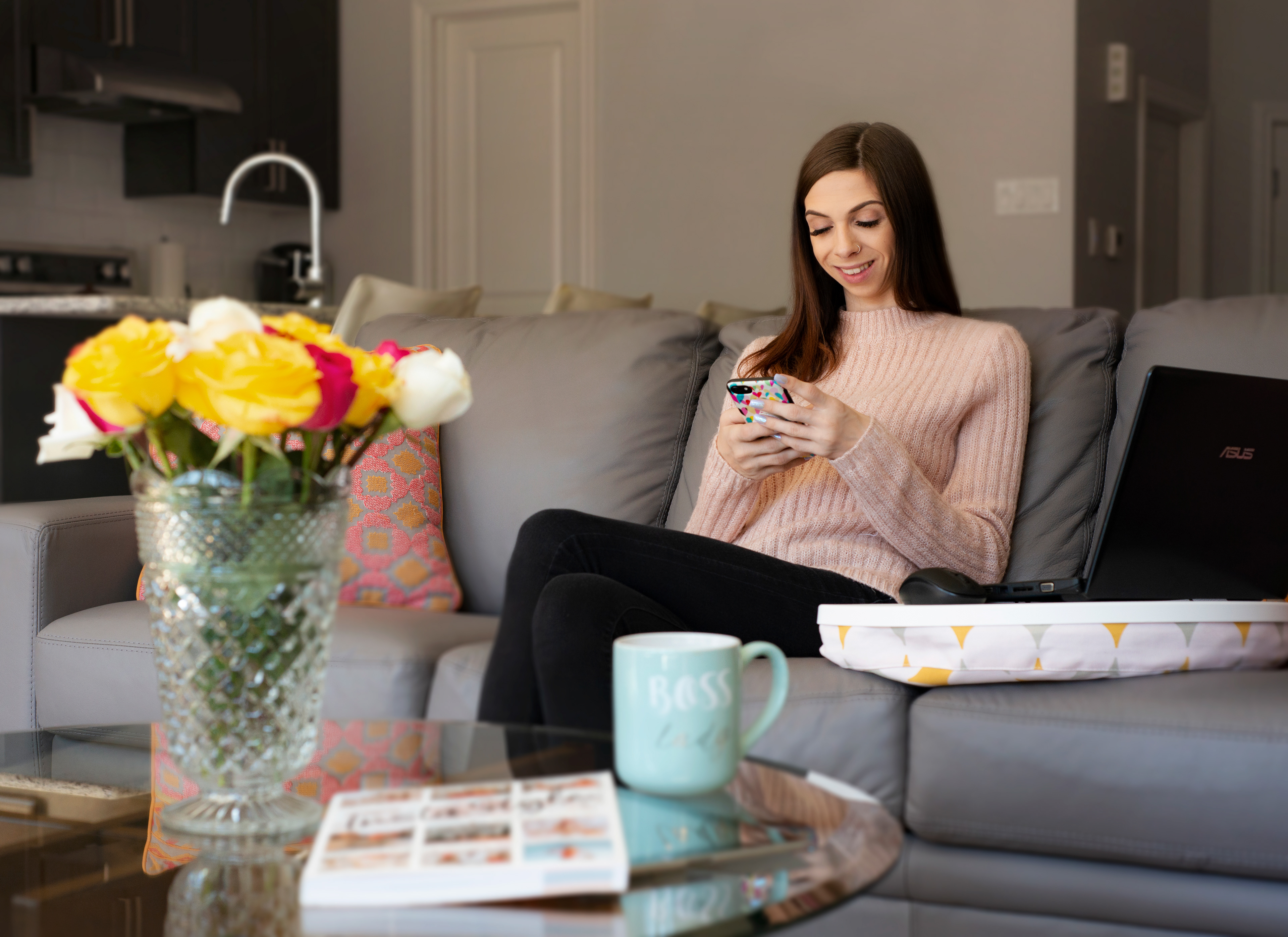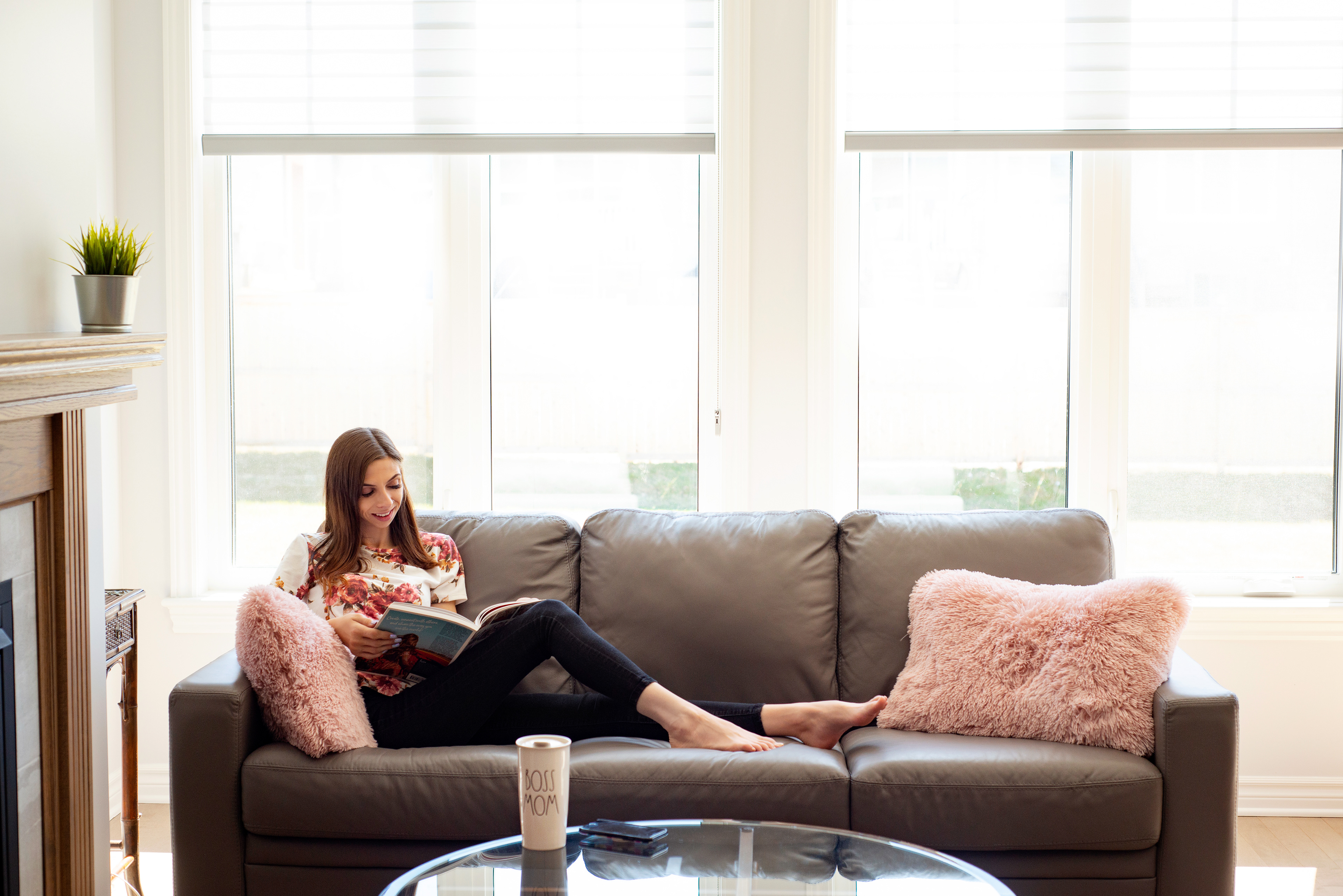 April 24, 2019
Time and time again, I get clients coming in for a session saying that they are not photogenic or that they never take good photos.  
To be honest, I truly believe everyone is photogenic.  My job is to make my clients as comfortable as possible and let them be their true self in front of the camera and let their guard down to truly capture their essence.  Then, their true spirit shines and their confidence radiates.  
THAT'S why I believe everyone is photogenic and looks beautiful in photos because they are being themselves rather than being focused on what they think are imperfections.  
Natural smile, tinkle in the eyes... Those are things that can't be faked!    
So put that mentality behind you, stop putting yourself down and come on in, I'll show you how truly beautiful you are!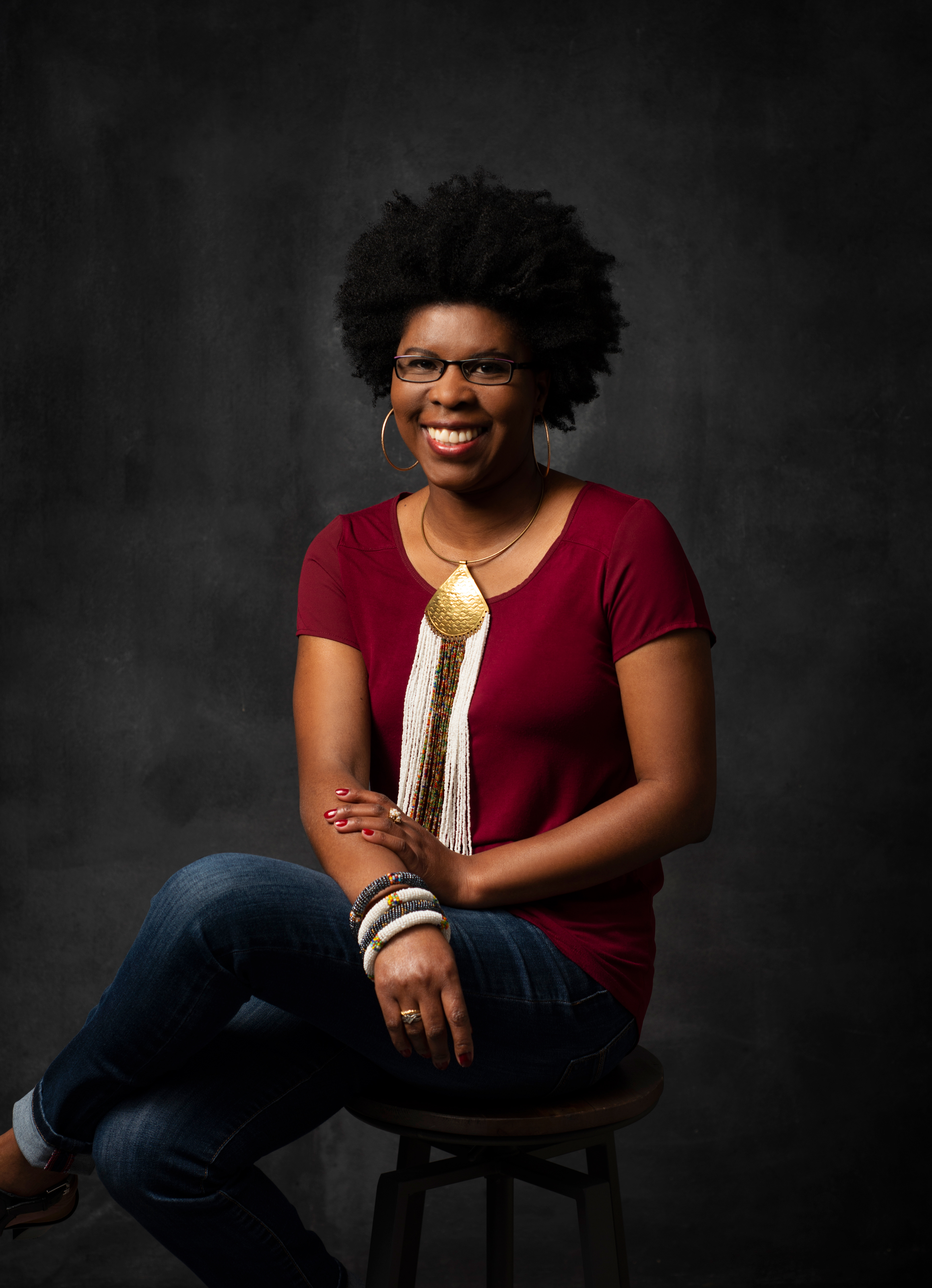 April 5, 2019
Today, I'm finalizing the last touches for tomorrow's Easter mini sessions and I am stocked!  
Fragrant tulips, vibrant colours, cute new props and a bunch of tiny little humans to photograph!  What's not to love.  This is definitively putting a spring in my step! (See what I did there...  :p  )
You will want to keep an eye out for the sneak peeks from these sessions next week.  They are sure to be ADORABLES!  Can't wait that long?  No problem, visit our Pinterest page to see last year's cuties in the meantime!
I will also be launching our next promos in the next little bit so stay tuned and take advantage of the savings coming up!  
AND there will be a giveaway at the Parent and Child Expo coming up in less than two weeks, so make sure you check it out!  For more info on this event ro to purchase your tickets online, click
here
!
March 27, 2019
Spring is finally here!  And with spring usually comes many sweet little angels.  Every year around this time of year, I notice an increase in the newborn sessions and I love it!  It's so nice and refreshing to see these new little bundles of joy coming in with the warmer weather! 
On top of all this baby fun, this year has been even more special newborn wise for me...  So far, during my newborn sessions, EVERY SINGLE BABY has smiled while playing model.  
I mean, this is just a treat to be able to capture these sweet innocent expressions on my clients' little ones.  It truly brings me joy to know they will have these wonderful images to look back on and cherish for the rest of their lives.  Such a precious moment in time.
I don't know about you but I know I can't help but smile back when I see a young one smile like this little fella. 
So come on spring, smile on!  Let's keep up that streak!
March 22, 2019
EASTER MINIS PROMO ALERT!
That's right, this year again, I will be doing an Easter Mini Promo!  
Want to beat what feels like the longest winter ever?  Bring on your littles and come join me on April 6 to take part in my annual Easter minis day!  It's a great occasion to update your family photo or pics of your kiddos at an affordable price!  Plus, you will get a bonus gift if you book your session before Sunday March 24!  
Each session will last approximately 30 minutes and includes TWO retouched digital files.  What's not to love.  You can purchase additional files or printed photos if you wish to do so.  
Put on your best smile and let's kick the winter blues in the butt!
I'm ready to welcome spring with open arms, aren't you?
To find out more about this offer or to schedule your appointment, contact me by clicking
here
!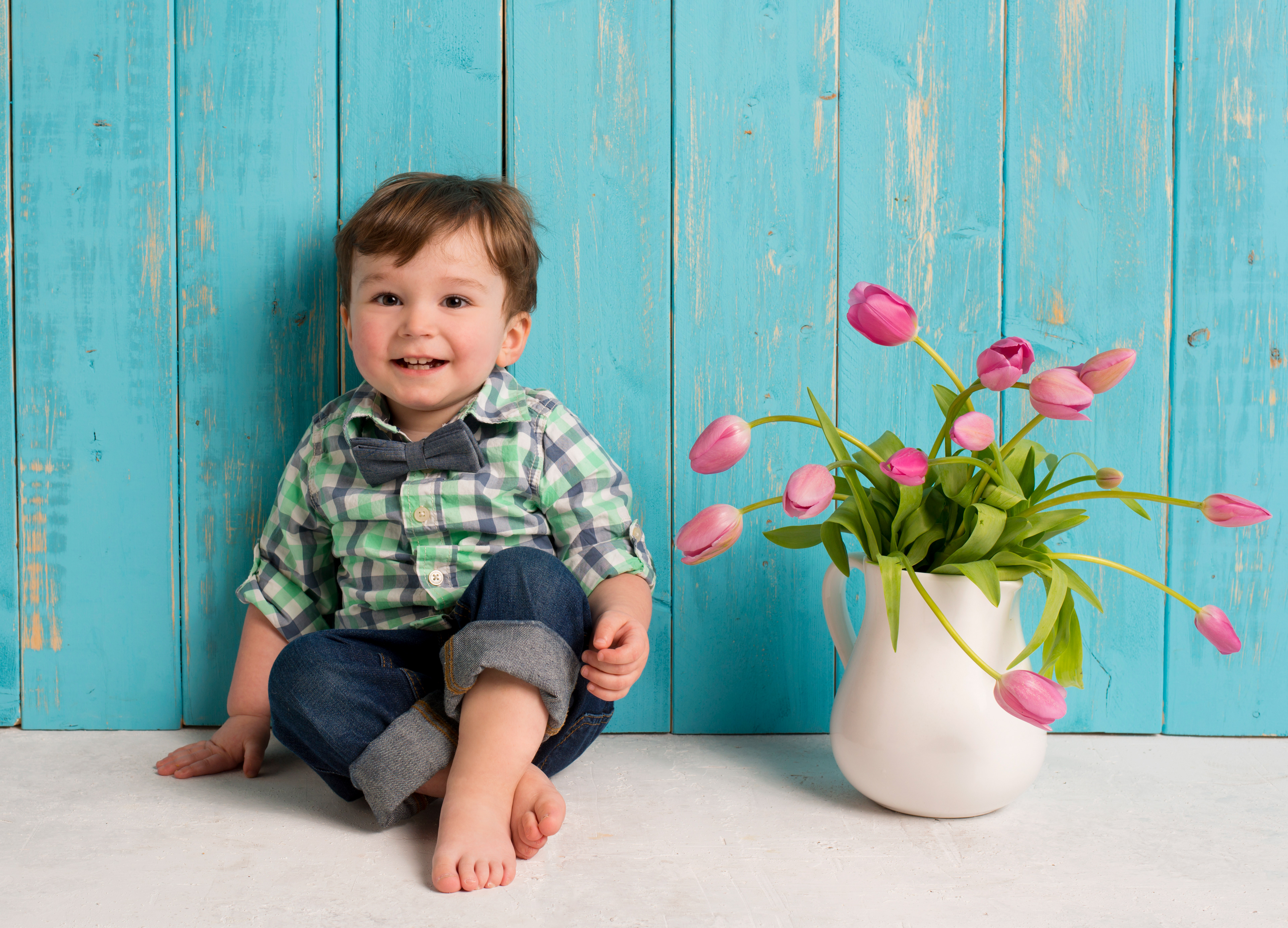 March 12, 2019
When is the best time to do maternity photos? 
My answer again is: There is no right or wrong time.  You know your body best!
Some women decide to do the session a bit earlier on (25-29 weeks) because they are either carrying multiples, their belly started to stick out early or just because they are feeling well and beautiful at that time.  Others may wait until they are a bit farther along (30-36 weeks) so their belly shows more or simply because they weren't sure about doing maternity photos in the first place and decided to go ahead closer to the end of the pregnancy! 
What I think is the most important thing to keep in mind is that you do what feels right for you!  Everyone adjusts differently to a changing body!  
Some of you will be lucky and feel their best throughout the pregnancy but for the most part, expecting mothers are more tired towards the last few weeks and some even experience swollen feet and hands near the end.  This is why it is important to listen to your body to know when you are feeling great and feel comfortable capturing this beautiful milestone.
Some women may have a hard time adjusting to how their body is changing throughout the pregnancy, and it is my job to make sure you love and embrace your body that is carrying the most precious gift of all... Life.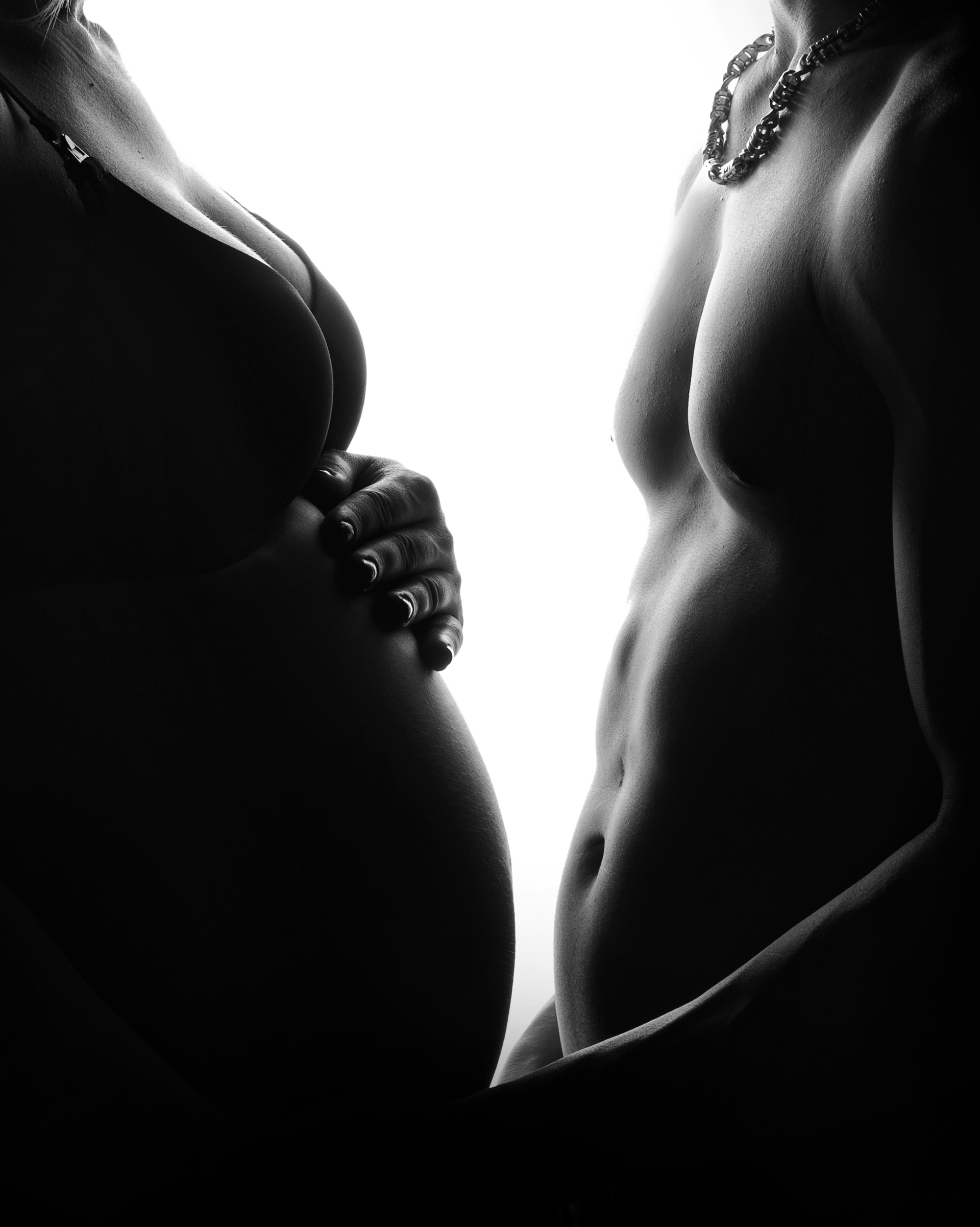 February 20, 2019
Are you looking for a fun activity to do with the kiddos on a weekend this spring and discover what Ottawa has to offer?  Mark your calendars...  The Ottawa Parent & child Expo will be at
the Nepean Sportsplex
 on April 13 and 14!  Come and meet your favourites characters such as Thomas the Tank Engine, Wags and Dorothy from the Wiggles, the Ultimutts Stunt Dogs and much more!  
There will be some play areas for younger & older kids along with loads of local exhibitors showcasing a wide variety of products and services including local education options, parent and child fitness, family health & wellness, summer camps options, child care, shopping and so much more!  
Photolux will have a booth at the expo all weekend long so come on over and say hello!  Pssst...  We may have some show special pricing and a give away so it's definitively worth coming to check it out!   ;)    
It is sure to be fun, informative, entertaining and affordable for the whole family so don't miss it! 
I hope to see you there!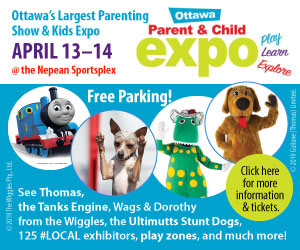 February 13, 2019
Lets talk engagement session for a minute.  It is a service most photographers offer either as part of a wedding package or as a stand alone product.  At photolux, we don't view them as test shoots (we've been doing this long enough that we are confidantin our skills) but more so as an opportunity for the bride and groom to get professional casual photos done for themselves and if they decide to use some photos to decorate the hall on their wedding day, it adds a nice personal touch!  
When I meet with couples regarding their wedding, I often get asked what is the best time to do an engagement session.    Like for the baby sessions, my answer is there is no bad time of year/ season do to a photoshoot. It all depends on the look you are going for.  
I find that late spring and  summer engagement session are light and playful.  The blossoms come out, and the trees get fuller. There are a variety of looks possible and the bonus is, the natural light is available for a longer period of time during the day which offers more flexibility on the time of the session.
Fall or early winter engagement sessions offer such a stunning vibrance with the leaves' colours.  Plus, I looooove the coziness that sweater weather brings.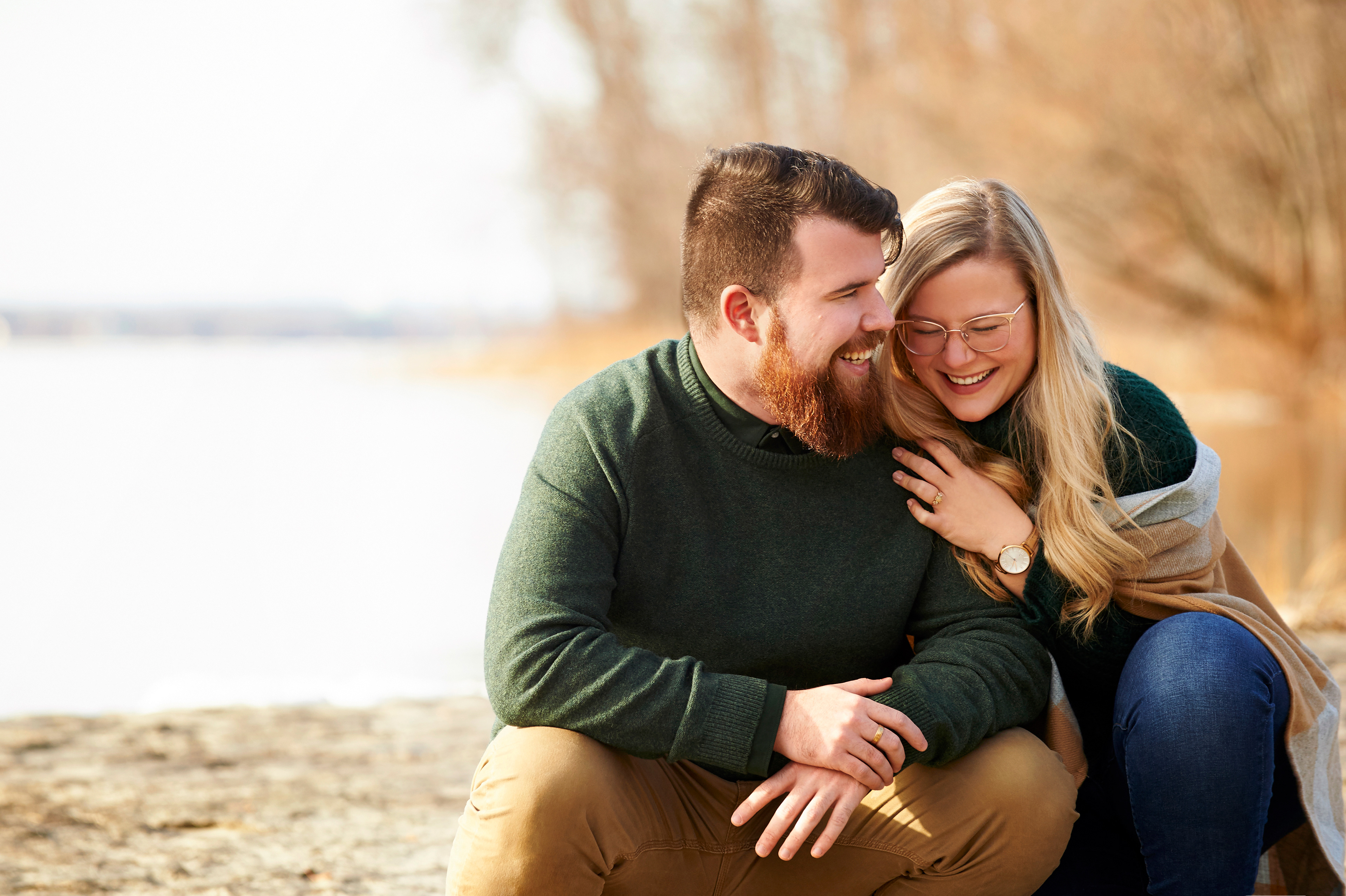 And then, if you decide to go for a full on winter wonderland look, magic happens!  When shooting outdoors during the winter, the light bounces off the snow, creating this dreamy airy look. 
And if you decide to bring the outside in, sky is the limit!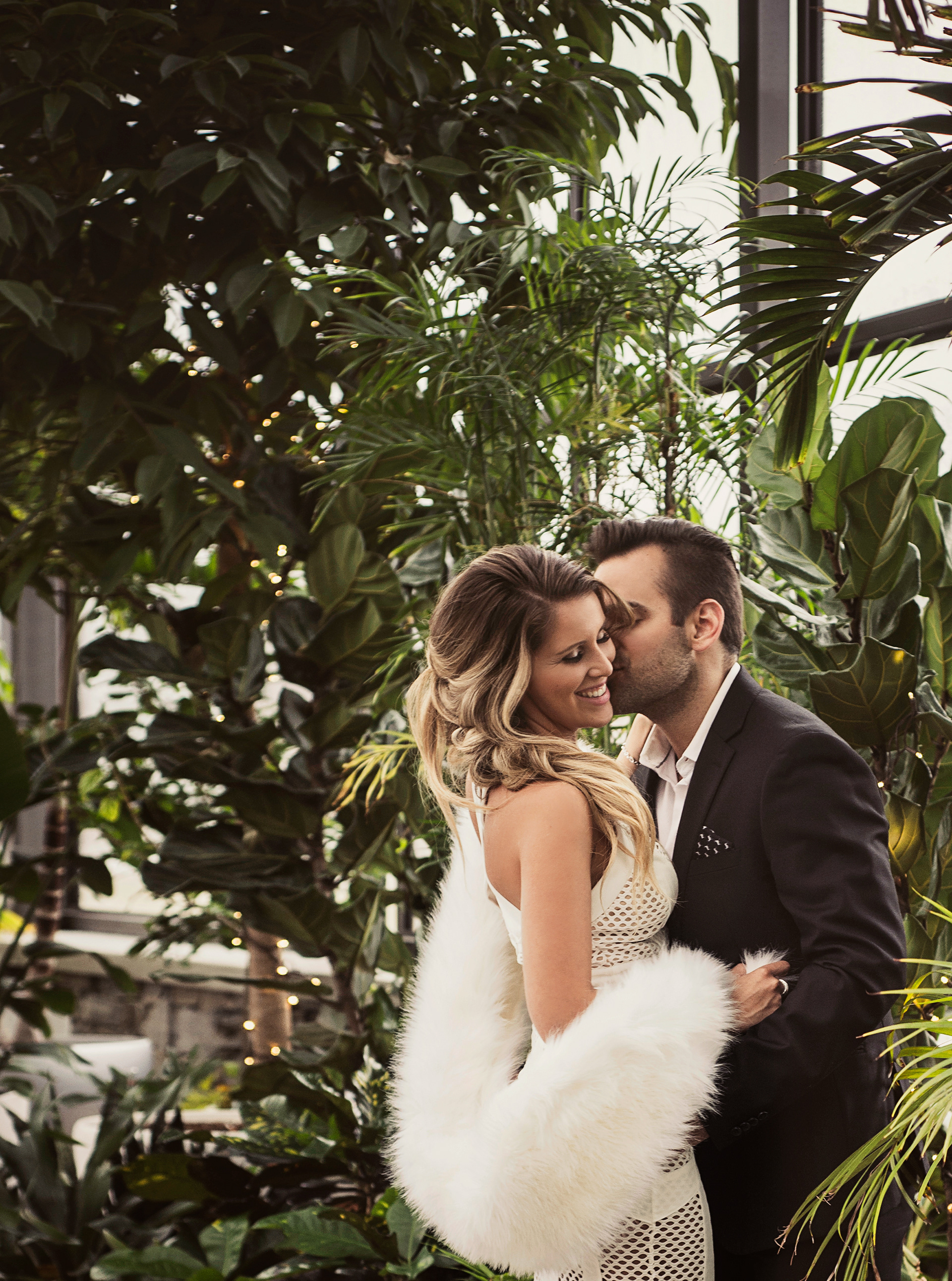 So if you are planning on doing an engagement session, think about what look or style represent your couple the best.  If you like winter sports, let's bundle up and create magic, if you like to go on hikes, fall might be a good option, and if warmth is your vibe, then you'll probably dig a summer session. 
...  Aaaaaannnd  if you are more of a think outside the box kind of couple, how about a sunset or night shoot?  You'll get a super moody vibe in your photos! ;)
Regardless of the season you decide on, make sure to allow a few weeks (I usually recommend at least 6 weeks) between the session and your wedding so that you can get prints, albums, enlargements, guest book, etc...  done in time for the wedding and avoid any stress! 
February 12, 2019
You just got engaged or are expecting?  Congratulations!!  It is such a big milestone and is such an exciting time in your life!  
Traditionally, part of the wedding preparation or baby's arrival, is a gathering called a shower where your family and friends gather to celebrate this big step in your life and offer gifts to help you prepare for what is to come. 
Did you know that there are a bunch of options online to do gift registry that allows you to put gifts from multiple stores (rather than just the one location or store) but also for various items you won't find in stores such as help with dog walking when baby arrives, warm meals to freeze up, financial help with the honeymoon or even photography!  ;) 
This type of registry allow you to tell your family and friends which studio you would like to get a gift certificate or pre-paid session at.  It takes the guess work out of gift giving for your loved ones and makes for such a precious and invaluable present because you will cherish those photos and memories for years to come!  
They are super easy to set up and mark items as gifts on your list.  Most times, you can save the web link from the site you want a certain service/gift  and paste in your registry.  You can add a description of the specific service or item you are looking for to make it even easier for your family and friends.  Easy Peasy!  And best of all:  You can do it all from the comfort of your home!  What's not to love?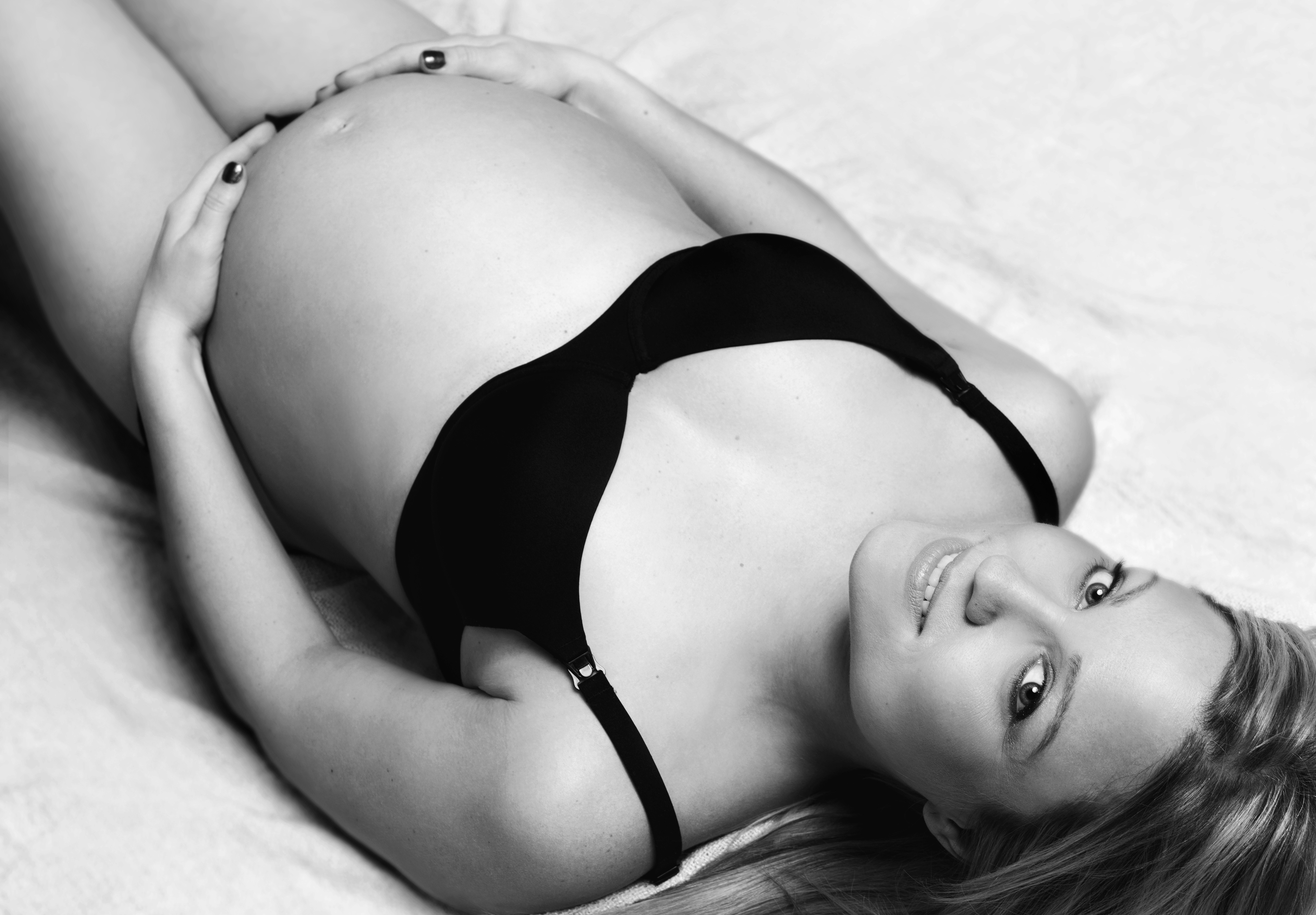 February 8, 2019
Pets... Yay or Nay? 
My mentality is that pets are part of the family so why not include them in your family photo?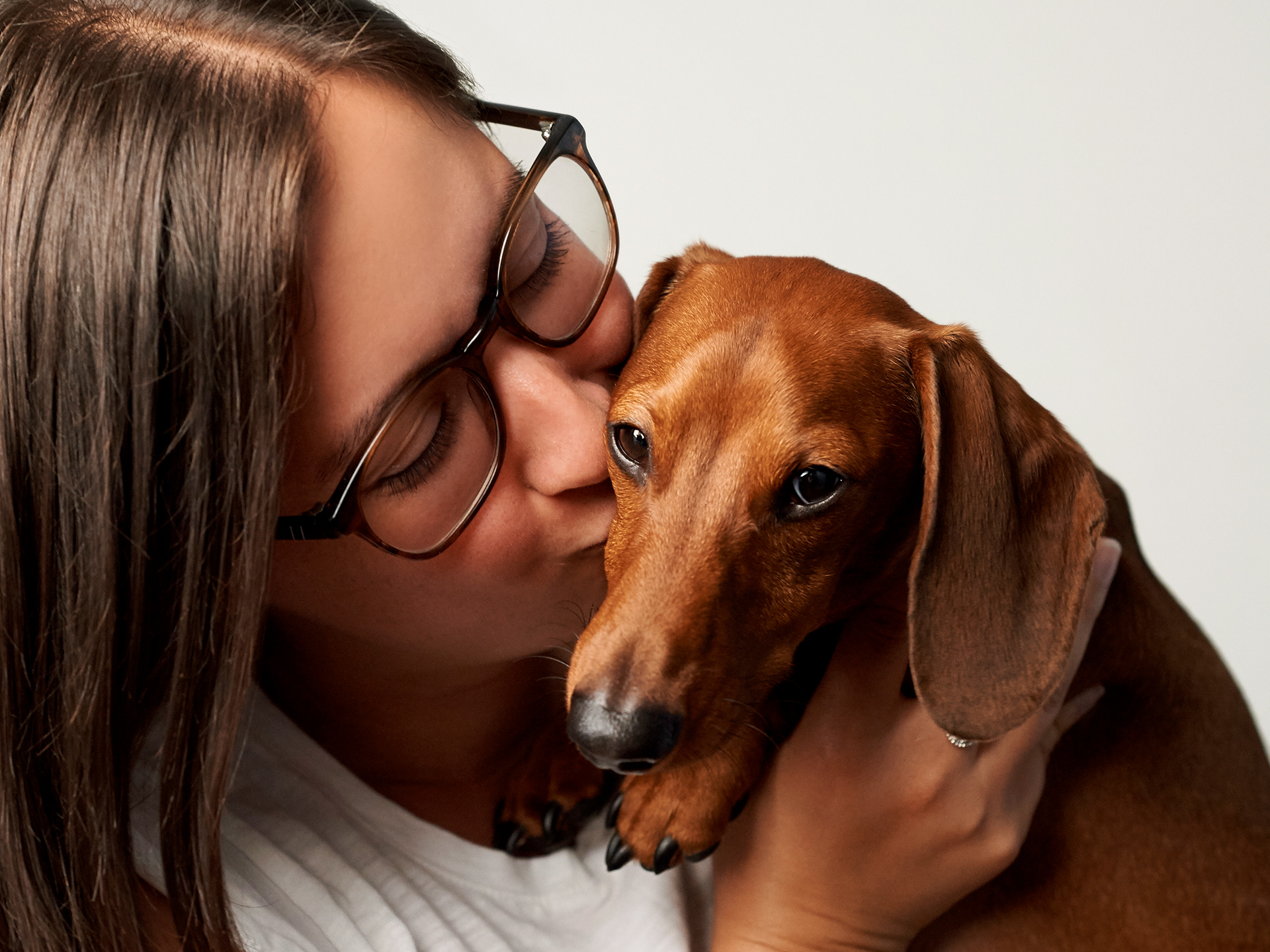 Your pets are welcome to your portrait session regardless of if it's being done at home, outdoors or at the studio.  I do like to know ahead of time though so I can prepare accordingly.  
Over the years, I've mastered the art of getting a dog or cat to look at the camera!!!  Different animals interact differently with new people and the camera, therefor, I need to be prepared with the necessary accessories (squeaky toys, treats, feather wand, cat toy, crunchy paper, etc..)
To me, it doesn't matter if your animal is high or low energy, if it's big or small, as long as it is friendly and nice, I'm going to be happy to work with them!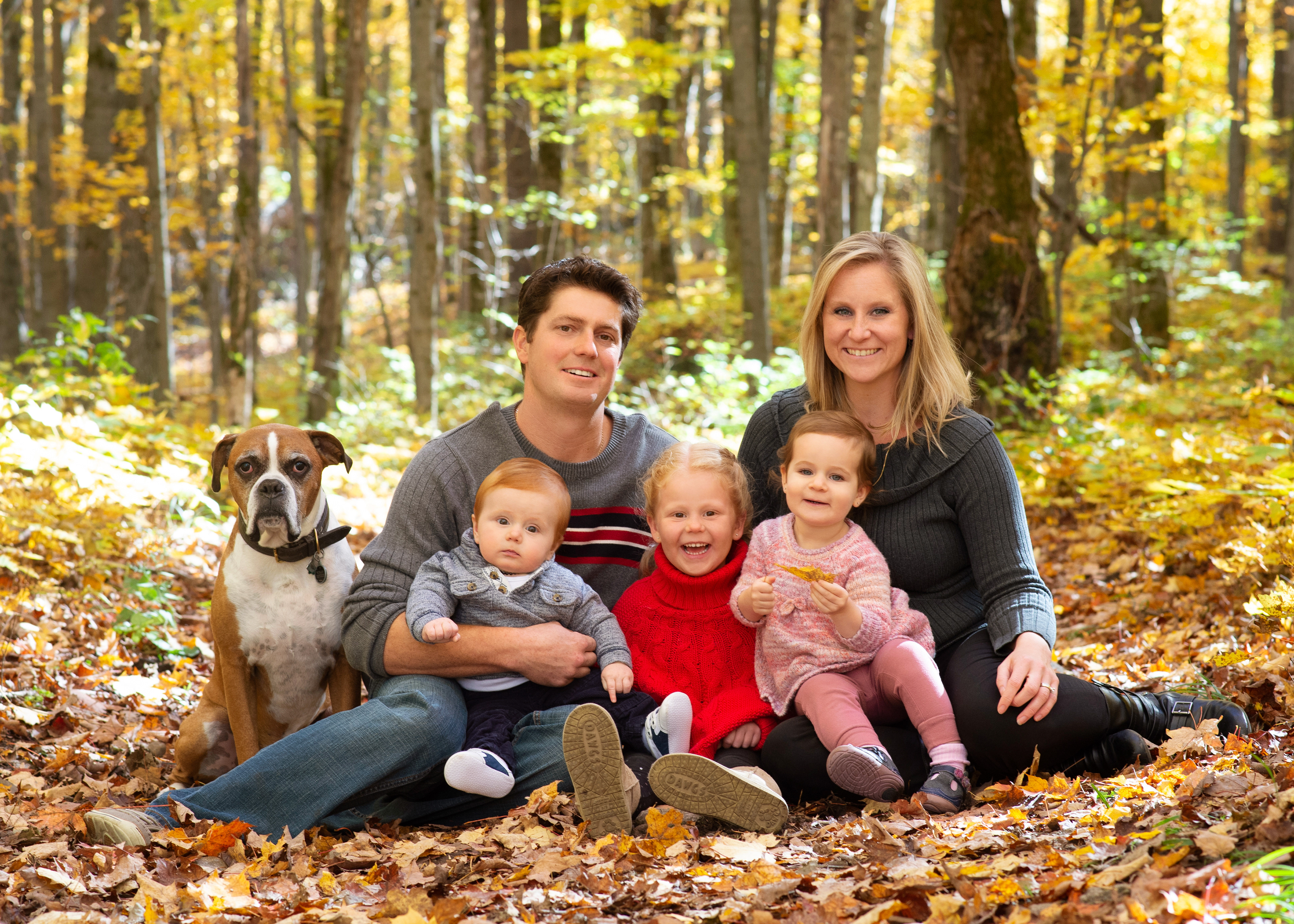 I get asked times and times again when is the best age to do portrait session with a young child or baby.  My answer has always been and will always be: There is no right or wrong age.  It all depends on the look you are going for.  The younger the baby, the sleepier it will be.  The older the child is, the more interactive the images will be.
If you are looking for the Newborn all curled up and sleeping look, I usually recommend anywhere between 5-14 days old.  The only thing to be mindful of is the younger the baby, the more chances the belly button may not have fallen off yet.  I have no problem photographing babies that still have the little piece of dead belly button skin as there are many ways to camouflage it.   
If you are looking for the more awake look but still capture the tiny-tininess of your little one, then from one to two months old is great to achieve that style. 
Babies tend to start sitting up unassisted between 5 & 7 months old and most times, they start to crawl around 8-9 months old (which makes for more active photos). 
And then, you have the one year old that can sometimes walk and is quite engaged and expressive. 
So here are a few examples of photos taken at different ages to help visualize the style associated with each ages so you can decide which is best for you.

Here's a little guy that came in for his session with me at 9 days old.  He was super sleepy and his limbs were still in the curled up against his body position.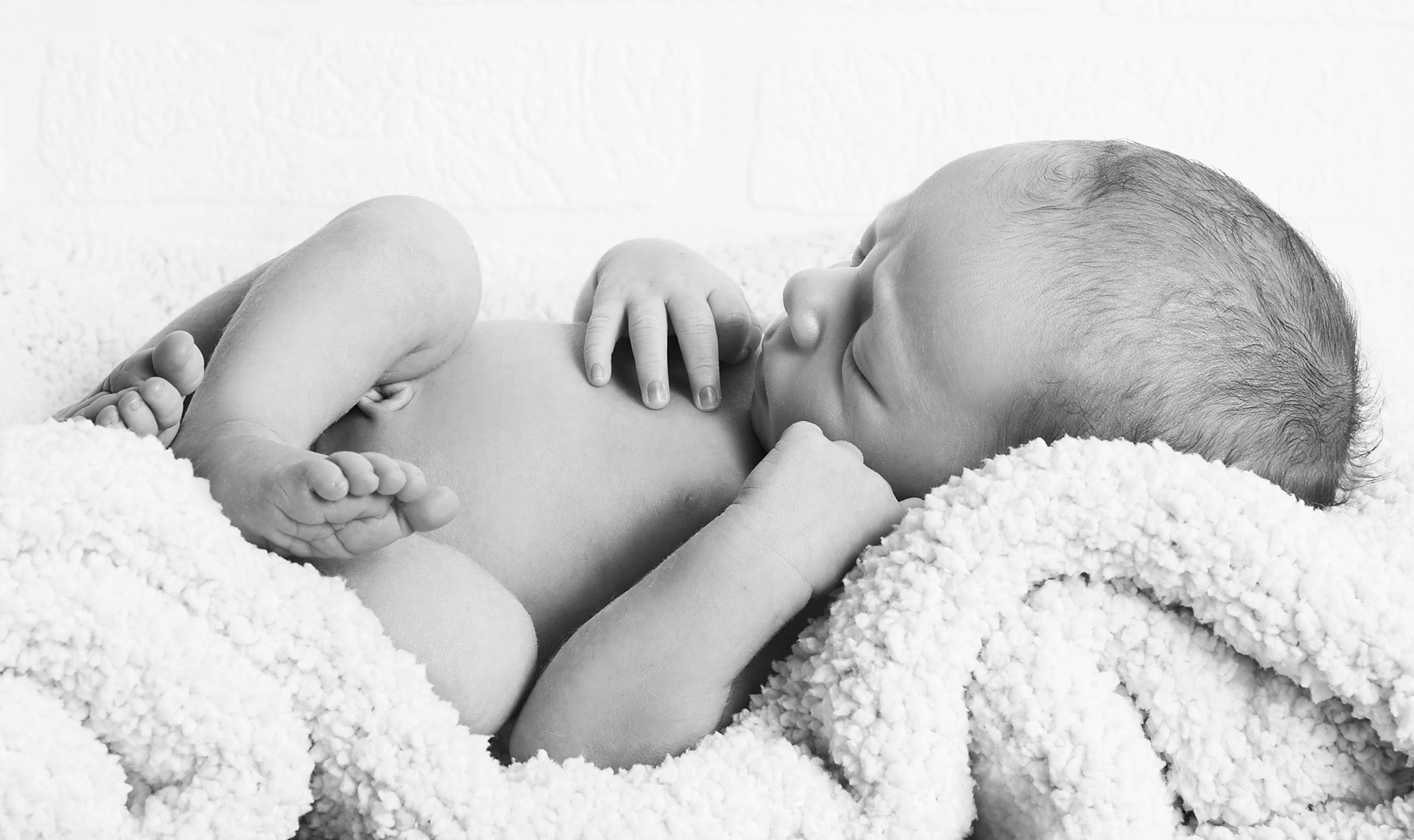 I photographed this sweetheart at two weeks old.  She took a little while to settle and fall asleep but that gave me the opportunity to get a combination of both awake and sleeping shots.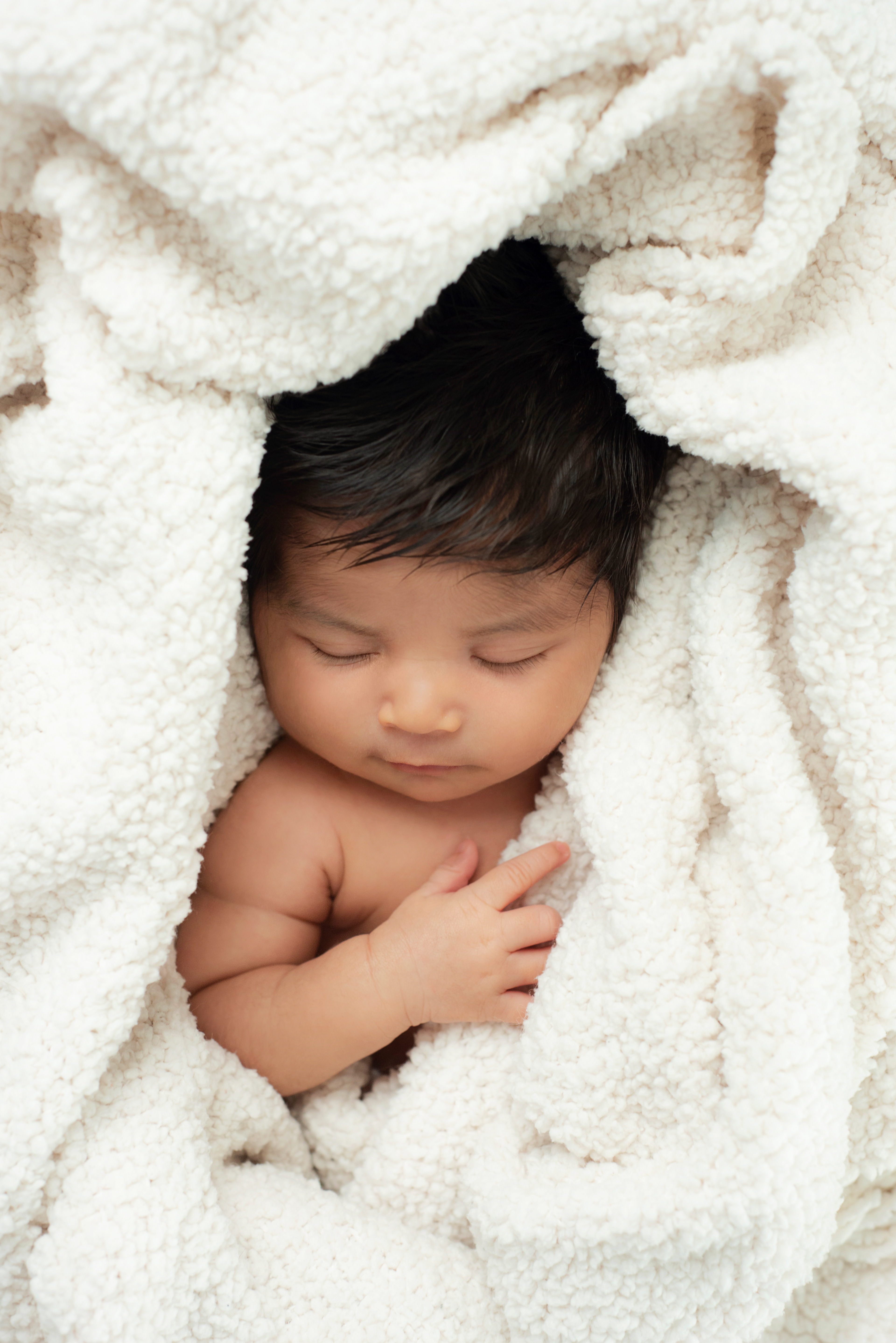 This handsome dude came in to see me at 4 weeks old.  Again, he was awake for most of the session but we also got some sleeping shots towards the end.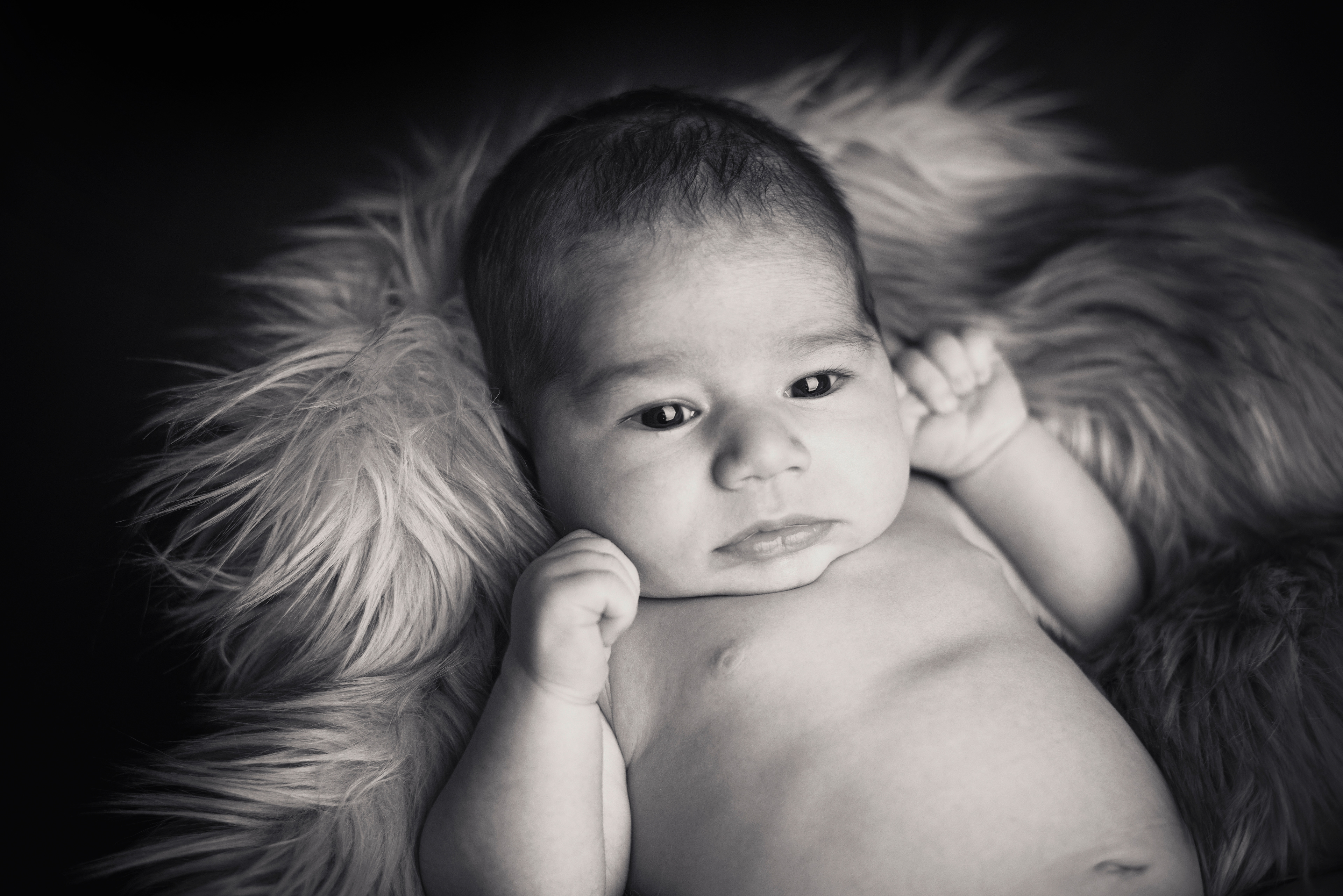 This little miss was 4 months old when I photographed her.  At that age, they can hold their heads but can't sit unassisted yet... BUT they start to be more and more expressive!!!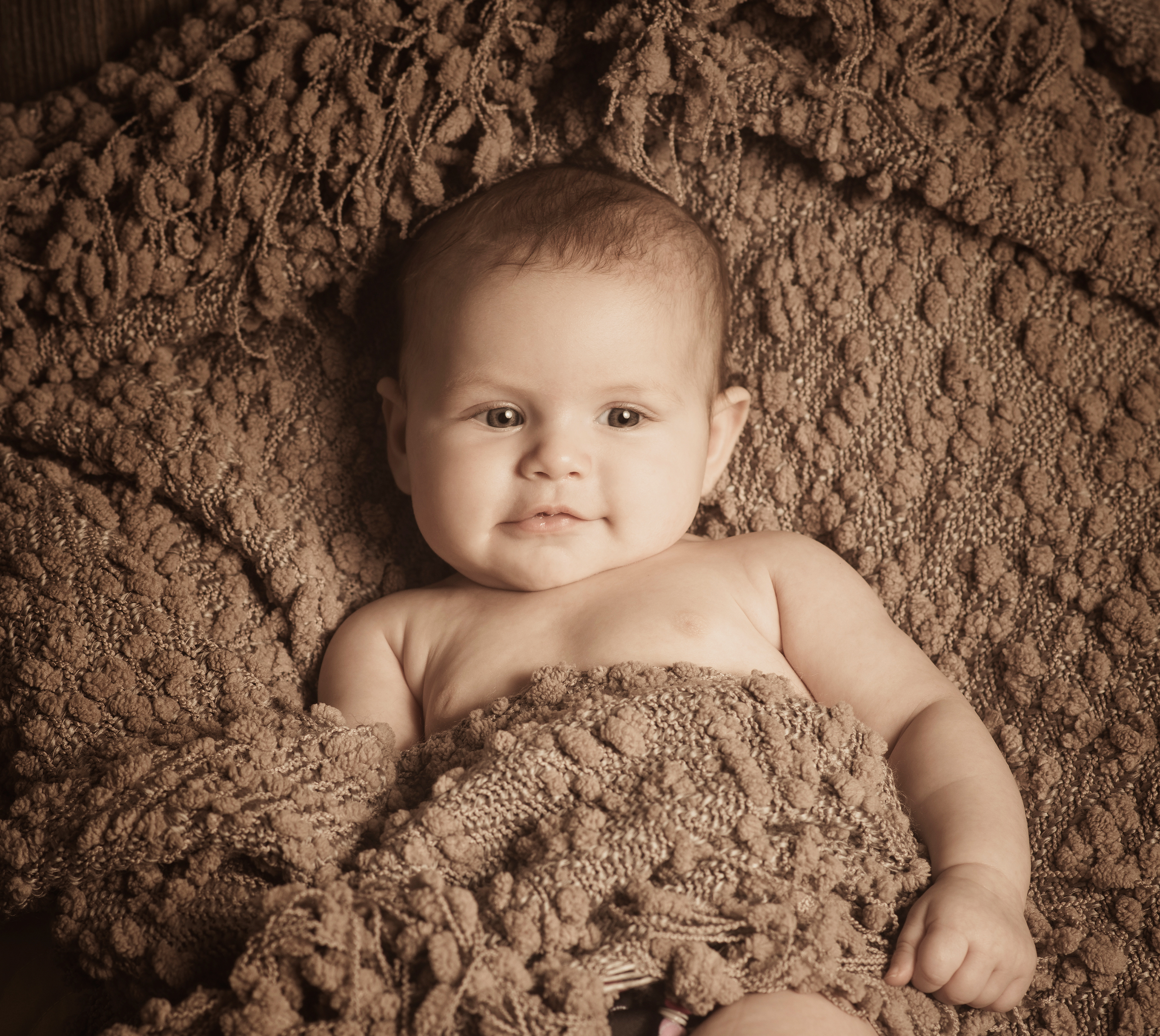 Now this bright eyed little man came in for his 6 "monthaversary".  He had no issues sitting up and was very expressive and curious!  His mom and I definitively had a few giggles during his session.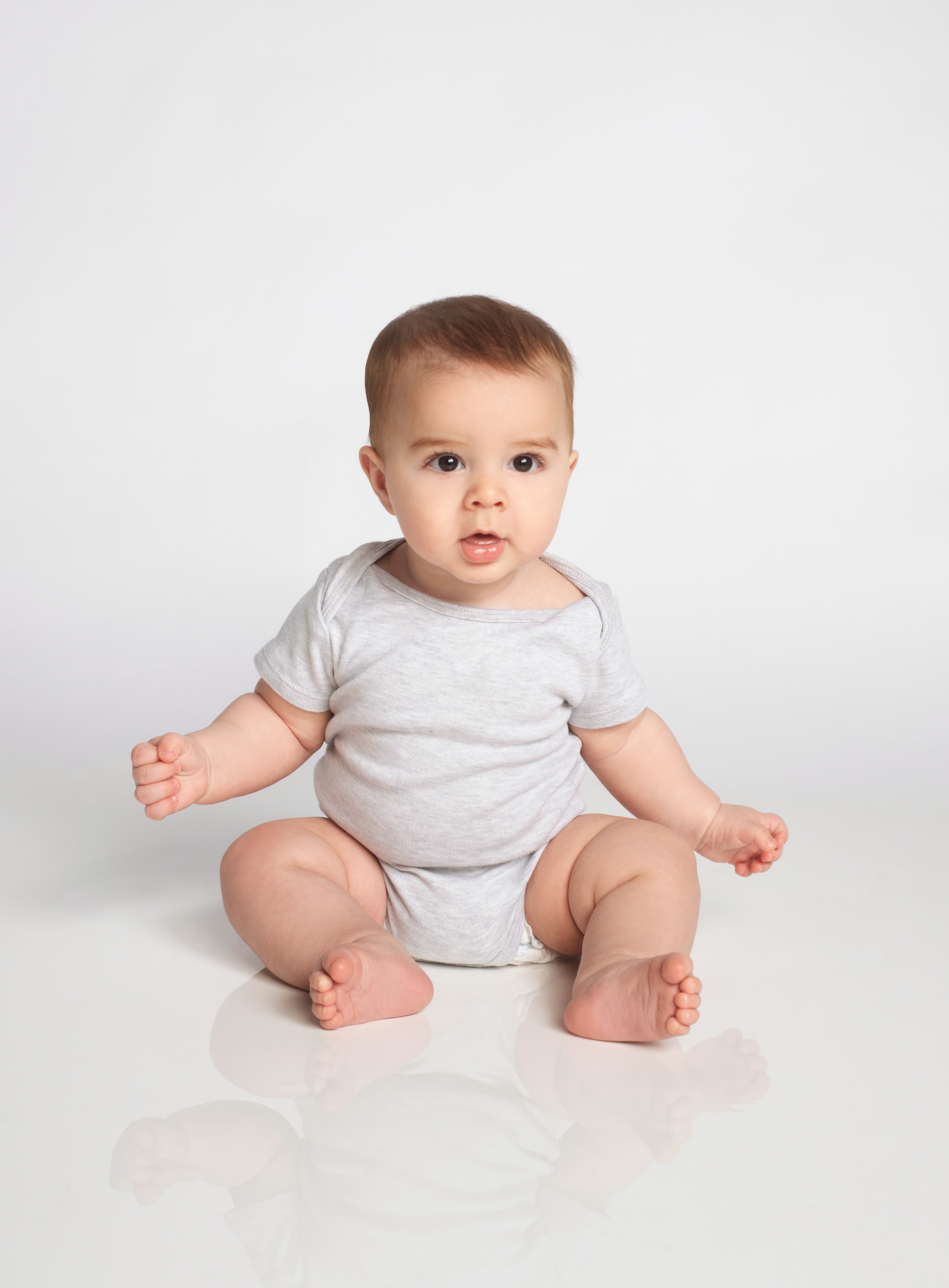 This little lady wanted to explore.  At nine months old, she was trying to figure things out (what's in the box, what happen if I push on it, etc...).  At this age, the poses tend to go faster because in order to keep them interested, you need to always switch things up, otherwise, they tend to get bored.  So I have plenty of tricks up my sleeve!
And this little guys sums it all up.  At 12 months, they are little firecrackers.  They want to play, explore and play some more.  When I do a session with a one year old child or toddler, I tend to keep it mostly interactive and playful.  It represents well the phase they are at and keeps it fun for the kiddos.  Again, with kids this age, the poses don't last very long.  I switch it up quickly or otherwise they can lose interest.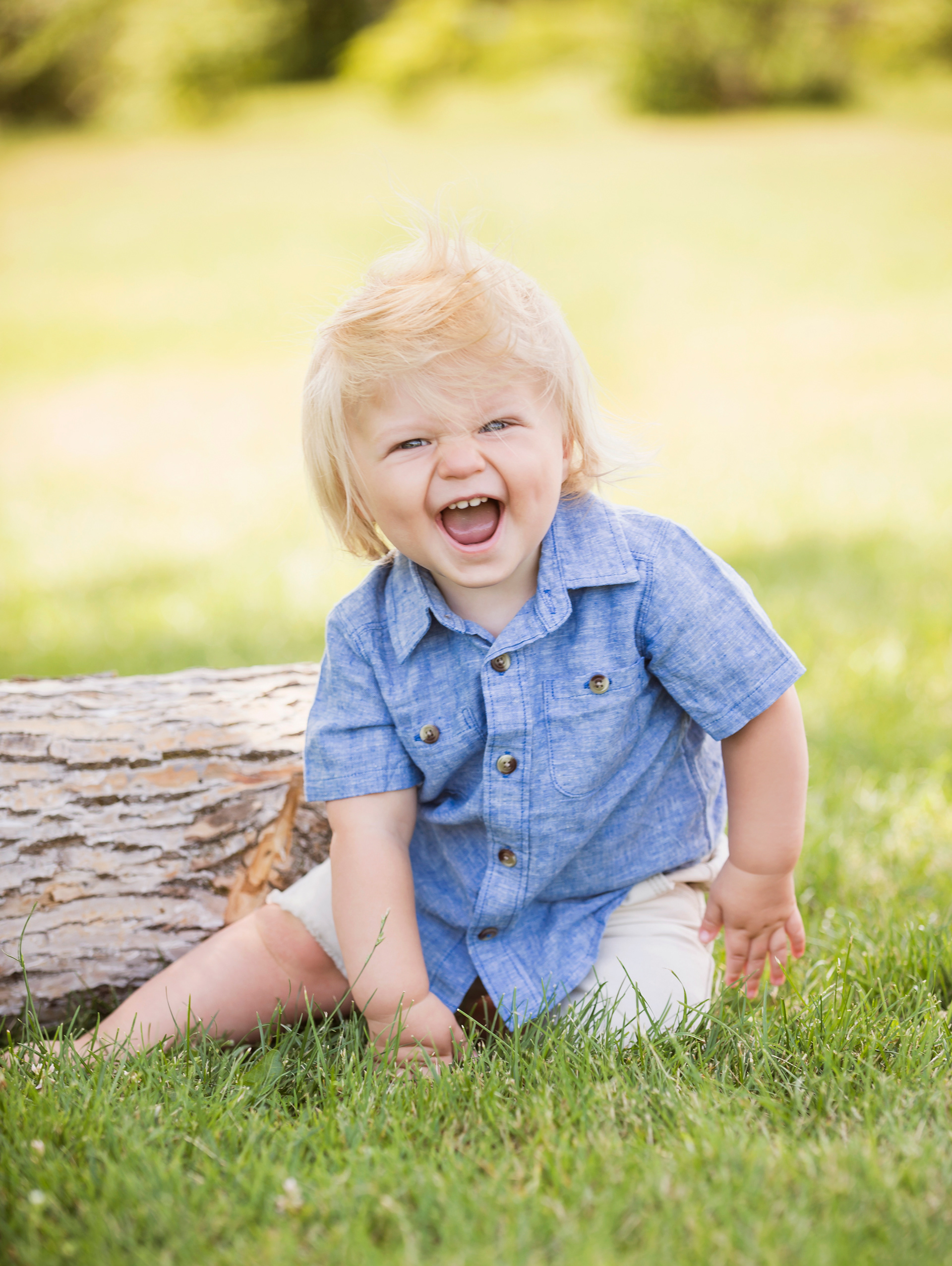 I hope you will find this helpful in planning your next portrait session but in a doubt, don't hesitate to drop me a line, I'm happy to chat with you to discuss what you are looking for and making recommendations! 
I've been thinking about what should be the topic of my first ever blog post.  I went back and forth trying to come up with catchy topics but I came to the realization that maybe I should start by telling you a little bit about myself so you can get to know me like I get to know you during your sessions.  So here it is...
I am a local french Canadian girl who enjoys the little things in life.  I enjoy spending time with my family, my husband and my daughter.  I also love to meet new people, create new relationships and challenge myself to try new things.  I'm a foodie at times, enjoy knitting and do woodwork on my spare time.
I started my journey in photography back in 2006 when I enrolled in the photography program at La Cité Collégiale.  I graduated from the program in 2008 and started working right away as a photography assistant and moved on to become a portrait and wedding photographer at Photolux in 2012.  
Over the years, I've pushed myself to expand my skill set and style to always keep evolving with the trends. 
I am passionate about everything photography and I absolutely love meeting every one of you and hearing about your stories and creating meaningful images to immortalize your  every milestones.  
I am looking forward to the opportunity to be a part of your journey.
Caroline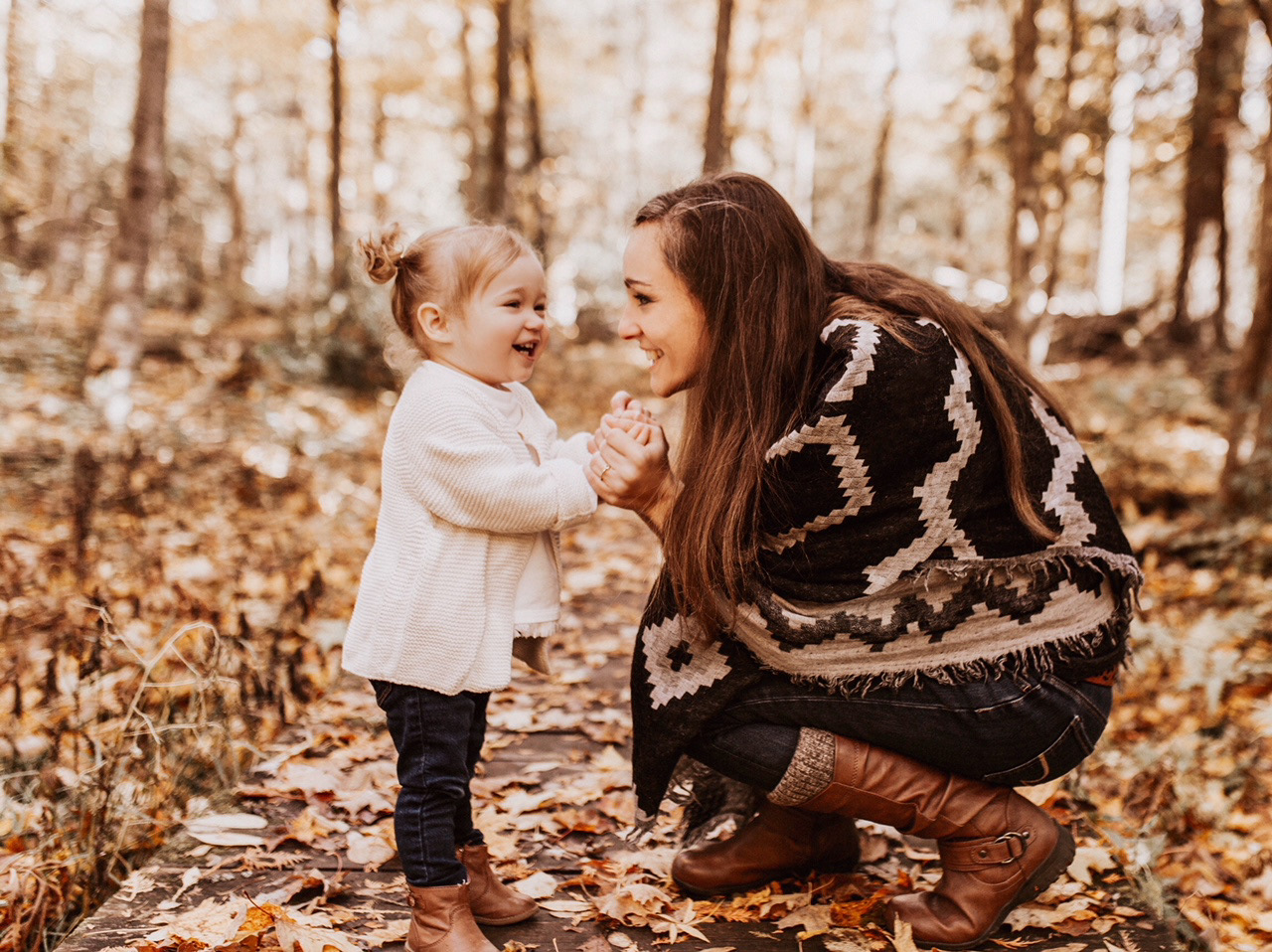 This photo was taken by my dear friend and former co-worker Alyssandra Govas.  I rarely want to be in front of the camera, but man am I grateful to have this lovely memory to cherish!